Hey Rock Heads today we're going to spotlight the ALL-NEW Pro V1 and Pro V1x 2021 Golf balls from Titleist. Reviews, Features, And a lot more await you for your reading pleasure! So what about it? Do you think these golf balls are an upgrade from the previous versions? Are you going to grab a box? Let us know in the comments below!
"Both of these golf balls have had every single variable that we can change, adjusted"

Jeremy Stone, Vice President of Titleist golf ball marketing
Pro V1 and Pro V1x 2021 Features
Always Bring Your Best
The new Titleist Pro V1 offers total performance and features longer distance, very low long game spin, penetrating flight, even more Drop-and-Stop greenside control and a softer feel.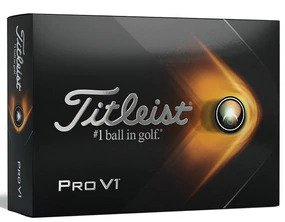 Player Benefits:
Longer Distance with Consistent Flight
Very Low Long Game Spin and Penetrating Trajectory
Increased Drop-and-Stop Short Game Control
Softer Feel
Technology:
Softer Cast Urethane Elastomer Cover System
Faster Low Spin Casing Layer
Reformulated 2.0 ZG Process Core
New Spherically-Tiled 388 Tetrahedral Dimple Design
Reviews
[Allows me to] control my shots – especially those difficult soft shots ­– so much better.

Justin Thomas
Items in this Article

Before You Go!
Check out our the many other great Rock Bottom articles. We have a spotlight on the new Titleist TSI Drivers! Here's our latest Gift Guide for the Holidays! Plus a fun article on Thanksgiving themed Golf Courses! Take a look at our article on all the review info about 2K's BRAND NEW PGA Tour 2k21 video game! There are so many many many more great golf articles to read! And so if you enjoy any of the content here make sure you share it with your friends! Rock Bottom Golf has you covered with RBG's Marvel x Volvik Giveaway.