2021's Father's Day Gift Guide
Father's Day is fast approaching again for 2021. Why not treat your golfin' dad to some of the best on our 2021 Father's Day Gift Guide? Below you will find all sorts of Father's Day golfin' gifts from every category for every budget. But don't wait though, grab your gifts from the best 2021 Father's Day Golfin' gift list from RBG at guaranteed rock bottom prices! And feel free to head on over to Rock Bottom Golf as well to shop and SAVE for Father's Day.
Father's Day is coming up quick – don't know what you're going to give him yet? Just follow the Caveman's advice to pick out the perfect present!
Set Your Budget. By knowing how much you want to spend, you can eliminate a lot of items and categories right off the bat and avoid buyer's remorse on an expensive, unplanned splurge.
Know Your Target. How well do you know the recipient, and what do you know about them? By tailoring your gift to their personality or playing style, for example, you'll show you've been paying attention and considered the individual and didn't just grab the first thing you saw.
Avoid "Too Personal." Some golf clubs and equipment, especially drivers and putters, are pretty personal items – it can be hard to pick one out for yourself, let alone another person! Unless you have a strong sense of what they want, you may be better off avoiding clubs or golf bags as gifts.
When In Doubt. If you really aren't sure what to get, play it safe & go with a Gift Card. They'll appreciate the gesture and will enjoy getting to do some shopping of their own!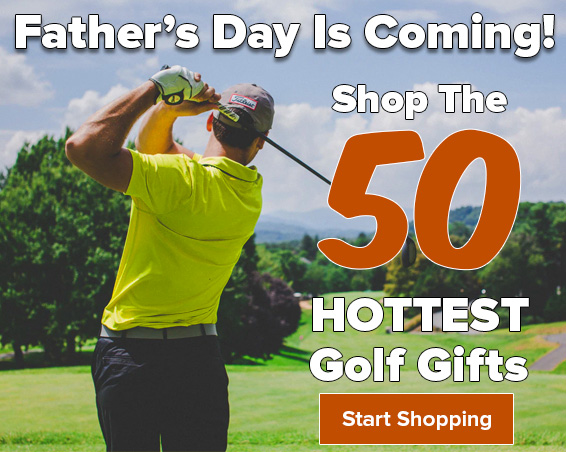 2021's Father's Day Gift Guide by Budget
Rock Bottom Golf has you covered no matter what your Father's Day gift budget can handle. There are gifts $50 and under that includes Titleist Pro V1 Golf Balls and the Tour Edge Golf Bazooka Pro-5 Putter Or perhaps your budget can cover a little bit more gift-giving, we have you covered there as well of course with the $100 and under gifts like the Cleveland Golf RTX-4 Raw Wedge and the GolfBuddy- Voice 2 GPS But we are confident that whatever golfin' gift you pick, we're sure your golfin' dad will love it!
2021's Father's Day Gift Guide by Category
If you are looking for something more specific to gift your golfin' dad, take a look below! There is a golf category from every corner of the cave from Woods, Putters, Golf Bags and Golf Balls! Do you have a more tech-savvy pop? Take a look at the golfin' electronics as well! Your dad like to dress to impress on the Course? Well, there's a section for apparel. We have what dads want!
We still have much, much, MORE





Before You Go!

Phil is the oldest Major winner ever! Take a peek in his bag! Also, check out the many other great Rock Bottom articles. Here's a Spotlight on the ALL-NEW Cobra King Putters! Masters winner, Hideki Matsuyama, What's in the bag! Check out what the Masters' winner carries in their golf bag and see it on RockBottomGolf! The Callaway Golf Epic Speed Drivers ARE HERE and here's our blog post about them! Introducing the ALL-NEW 2021 Titleist PRO v1 and PRO v1x golf balls! We have a spotlight on the new Titleist TSI Drivers! And next, there are so many many many more great golf articles to read! And so if you enjoy any of the content here make sure you share it with your friends! Enter our Callaway Epic Giveaway TODAY!