Hey Rock Heads! Today we're looking at the full line of King Cobra Copper Irons. Including the prototype Rickie Fowler rev33 irons! So strap-in this will be a long one, but a good one!
[Rickie Fowler] had a vision in his head of what he thought would be really cool, unique and pleasing for him to look at

Ben Schomin, Cobra's Tour operation manager
King Cobra Copper Irons RF Proto Features
5-STEP FORGING
Each iron is forged 5 times from a block of 1025 carbon steel to deliver the softest feel desired by the best players.
TUNGSTEN WEIGHTING
A high-density tungsten toe weight positions the CG right behind the hitting zone for the purest feeling shots with added stability on off-center hits.
COPPER FINISH
A rich copper finish was hand selected by Rickie Fowler as a finishing touch to make these irons truly one of a kind.
SIGNATURE SHAPING
Careful consideration was taken to ensure every aspect of the shape ranging from the topline thickness, to each edge radius suited Rickie's eye. The design process began with Rickie hand shaping irons on a grinding wheel, and resulted in 33 different prototypes that were tested, and fine-tuned by Rickie himself. At first glance, one will notice the sharp edges and little to no offset that makes these irons strikingly different from anything played on Tour.
KING FORGED TEC Features
The KING Forged TEC Copper irons feature a hollow construction, forged PWRSHELL Face, and tungsten weighting to create our longest and most forgiving iron in the family with a muscle back shape that appeals to better players.
HOLLOW CONSTRUCTION
A classic, muscle back shape conceals an unassuming hollow core that delivers low CG and controlled distance for maximum playability.
FOAM INFUSED CORE
A hollow cavity is infused with foam microspheres that fine-tune acoustics and create a softer feel.
PWRSHELL FACE
A forged face insert creates a larger sweet zone for higher launch and faster ball speed in a compact shape.
TUNGSTEN WEIGHTING
Tungsen toe weighting centers the CG behind the hitting zone to maximize distance and precision, even on off-center hits.
RF FORGED MB
KING Tour
FORGED TEC


Handicap
0-3
0-9
5-15
Shape
Most Compact MB Shape
Compact CB Shape
Traditional Hollow Shape
Construction
5-Step Forged
Metal Injection Molded (MIM)
Cast Body & Forged PWRSHELL Face
Offset
No Offset
Minimal Offset
Slightly More Offset
Sole Width
Most Narrow Sole Width
Narrow Sole Width
Traditional Sole Width
Launch
Mid-Low Launch
Mid-Launch
Mid-High Launch
Performance
Tour Caliber Forged Irons Designed
For Precision & Control
Soft Feel With Shot Making Precision
Distance & Forgiveness With Precision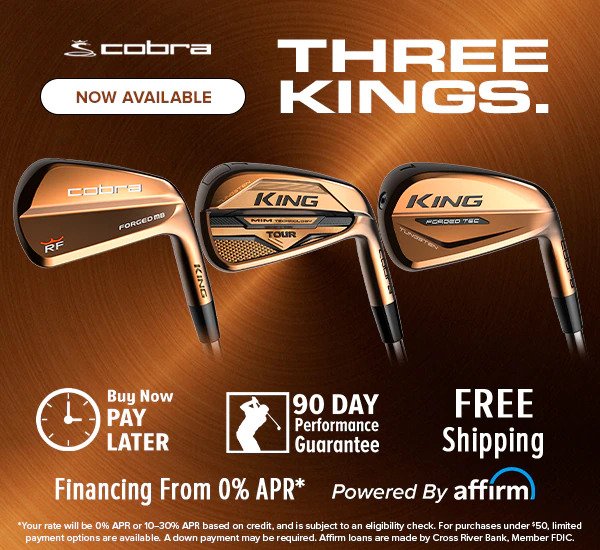 Before You Go!
Also, check out the many other great Rock Bottom articles. The Callaway Golf Epic Speed Drivers ARE HERE and here's our blog post about them! Here's our Spotlight on the Wilson CB Irons! Introducing the ALL-NEW 2021 Titleist PRO v1 and PRO v1x golf balls! We have a spotlight on the new Titleist TSI Drivers! Take a look at our article on all the review info about 2K's BRAND NEW PGA Tour 2k21 video game! And next there are so many many many more great golf articles to read! And so if you enjoy any of the content here make sure you share it with your friends! Don't forget to ENTER our March Cobra/PUMA Giveaway!