Hey, Rock Heads! What a Masters! One of the best ones yet; intense, gripping, and tight until the end! With Hideki Matsuyama coming out on top! So, do you want to golf like a Masters winner? Well, read our breakdown of Hideki Matsuyama WITB to see what was in his bag!
Hideki Matsuyama WITB: Golf Ball
New Fast Layer Core Starts soft in the center and gradually becomes firm around its edge, giving high-speed players exceptional feel and plenty of ball speed for maximum distance.
NEW 4th Generation Spin Skin with SeRM A coating with flexible molecular bonds digs deep into wedge and iron grooves, maximizing spin for more control and more stopping power.
338 Speed Dimple Pattern Less drag and more lift boosts overall distance and flies straight, even in the toughest wind conditions.
Driver
REBOUND FRAME By focusing more energy into the golf ball, Rebound Frame's unique structure increases ball speed and distance on every shot, especially center-face impacts.
CARBON CROWN A 15% larger carbon crown repositions mass low, pushing MOI up and increasing forgiveness.
ADJUSTABILITY A weight port allows you to adjust swing weight based on shaft choice and feel preference. An adjustable hosel also provides variation in loft, lie, and face angle.
TOUR SHAPING Flatter, shallower, and straighter, this new head shape inspires confidence for highly skilled players.
3-Wood
New V Steel Design An updated V Steel design redistributes weight to enhance forgiveness while maintaining low CG properties. A depressed heel and toe minimize sole area, adding to V Steel's turf interaction and versatility benefits
C300 Steel Twist Face High-strength C300 steel allows for a strong fast face engineered for explosive ball speeds, paired with Twist Face technology to overcome inherent golfer tendencies on miss-hits for straighter shots
Thru-Slot Speed Pocket Thru-Slot Speed Pocket provides increased face flexibility, preservation of ball speed and distance, especially on low face strikes
Multi-Material Construction A larger 190cc head design features precision weighting and strategic CG placement for explosive distance, enhanced forgiveness and high launch
Hideki Matsuyama WITB: Wedges
Progressive Feel Balancing Technology Last time, we got you closer to the hole by moving the center of gravity nearer to where you strike the ball. New Progressive Feel Balancing Technology takes that to the next level, giving you an even better feel, consistency, and short game control
Also, Sharper Tour Zip Grooves Sharper, deeper grooves slice through grass, sand, and water for a more consistent spin on every shot
Centered Rotex Face Milling Milling that's in line with your strike pattern increases backspin on all full, pitch, and chip shots
More Compact Blade Enjoy the better feel and more control with this tour-developed, player-oriented shaping
Putter
Scotty Cameron by Titleist Newport 2 Tour
PURE PERFORMANCE
Arguably the most famous putter head shape in the world, with scores of professional titles won, Scotty's flagship model—the new Special Select Newport 2—is the closest-to-Tour setup ever offered. With refinements made to every aspect, this timeless design returns to the roots of sound and feel with its insert-free, solid stainless steel putter head precision milled in the USA. Featuring a mid-milled face pattern, the iconic Newport 2 blade enters the new decade with a flatter, narrower topline, a redesigned plumbing neck, new performance balanced tungsten sole weights for a larger sweet spot and enhanced stability, as well as a new soft tri-sole design for effortless setup. Lastly, the Elegant new Tour-inspired "cherry rings" reminiscent of our legendary tournament-winning putters evolve the Select line's unmistakable three red dot back cavity theme.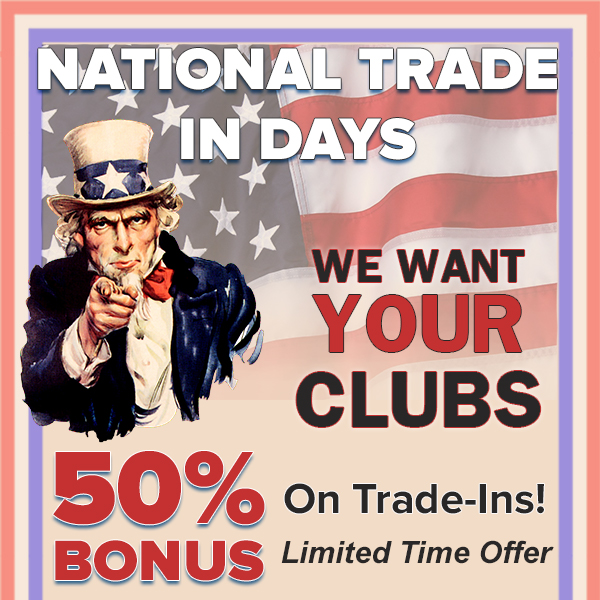 Before You Go!
Also, check out the many other great Rock Bottom articles. The Callaway Golf Epic Speed Drivers ARE HERE and here's our blog post about them! Here's our Spotlight on the Wilson CB Irons! Introducing the ALL-NEW 2021 Titleist PRO v1 and PRO v1x golf balls! We have a spotlight on the new Titleist TSI Drivers! Take a look at our article on all the review info about 2K's BRAND NEW PGA Tour 2k21 video game! And next, there are so many many many more great golf articles to read! And so if you enjoy any of the content here make sure you share it with your friends! Don't forget to ENTER our March Cobra/PUMA Giveaway! Win 1000 Rewards Points from RBG!