Enter To Win Rock Bottom Golf's Arccos Giveaway! We're giving away ten of the Arccos Caddie Smart Sensors! Be sure to ENTER DAILY and SHARE to earn +5 BONUS ENTRIES for each referral to increase your chances! U.S. Mailing Address ONLY! Click Here to ENTER or HERE to enter through our site!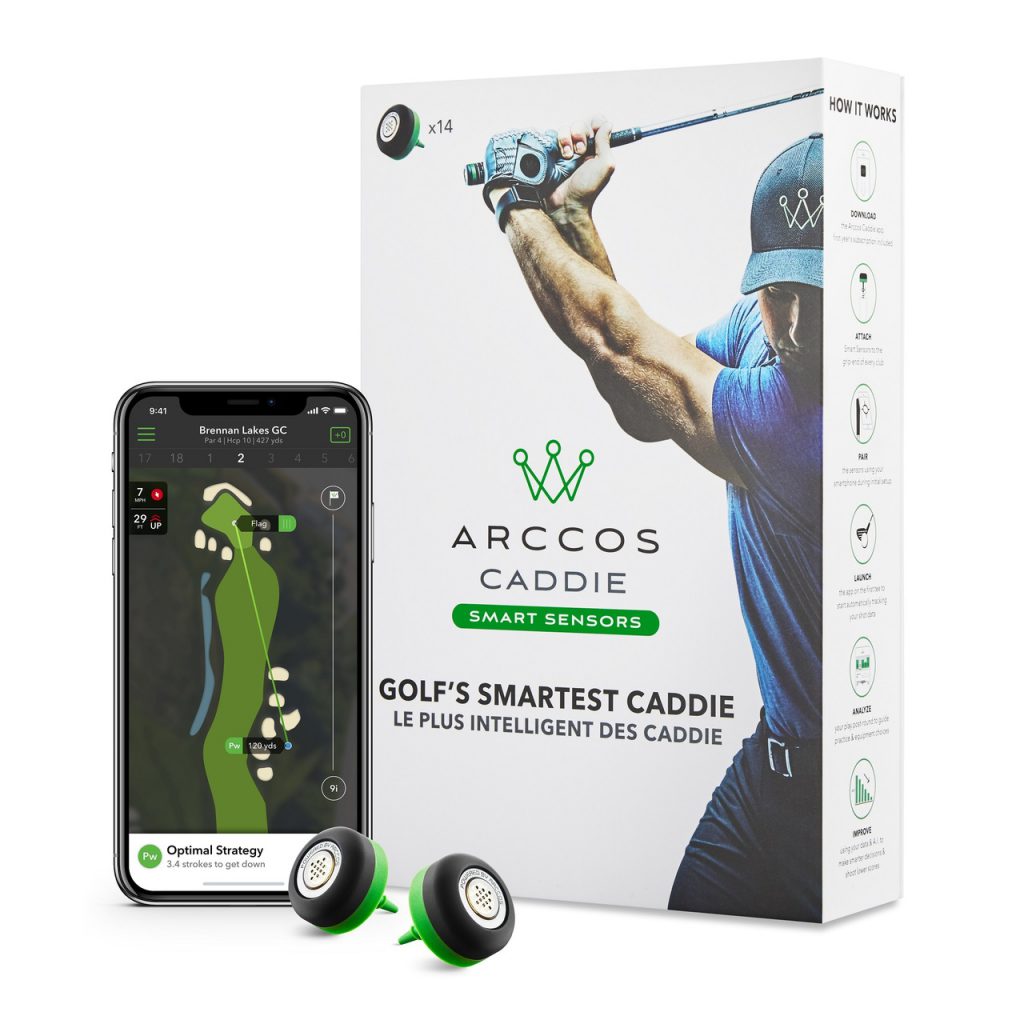 Arccos Caddie Smart Sensors
GOLF'S SMARTEST CADDIE
Winner of five-straight Golf Digest Editor's Choice Awards for "Best Game Analyser," Arccos Caddie new members experience an average handicap improvement of 5.02 strokes during the first year, by ensuring players make smarter decisions and shoot lower scores. Furthermore, Arccos' 3rd-Generation system features 14 sensors – one for every club in your bag – and access to the award-winning Arccos Caddie app, golf's Smartest Caddie featuring:
Automatic shot tracking, hands-free fully automatic shot capture
NEW – Smart Club Distances, know how far you hit all your clubs in any weather conditions.
K• A.I. Powered Rangefinder, the first-ever GPS rangefinder that adjusts in real-time for wind (including gusts), slope, temperature, humidity, and altitude giving you the Arccos Caddie Number, the most precise yardage in the game
• Caddie Advice (unlocked after 5 rounds), that leverages A.I., personalized to the players' game to provide the optimal strategy
• Strokes Gained Analytics personalized insights using A.I. to highlight strengths and weaknesses and guide your practice & equipment choices
The Arccos Caddie is golf's first Artificial Intelligence platform, combining Automatic Shot Tracking + Smart Distance Club Averages + Advanced Analytics + Caddie Advice for any hole on earth to help golfers of all skill levels make smarter decisions and shoot lower scores.
Also, the Arccos seamlessly captures thousands of data points during every round you play and provides unequaled insights about how far to hit each shot, which club to use in every situation, and what skills to practice, helping golfers of all skill levels improve faster than ever.
All set Smart Sensor purchases include the first year's membership to the Arccos Caddie app starting from the date activated.
USER BENEFITS:
Get Al-powered Caddie Advice for every shot, on every hole
Learn precisely which club to use in every situation
Know your precise yardage to any point on the course calculated by golf's most powerful and accurate A.I. Powered GPS Rangefinder in the world.
Identify your actual strengths and weaknesses
SYSTEM FEATURES:
Ultralight, low-profile sensors
Battery designed to last 5 years and fully guaranteed for 2 years
Power saving mode
Enhanced shot-detection algorithm
Access to Arccos Caddie app upgrades
Permitted Under the Rules of Golf (Decision Number 201-0754)
THE SYSTEM INCLUDES:
13 regular Arccos Caddie sensors + 1 Arccos Caddie Putter sensor
Free iOS & Android apps
30-day, money-back guarantee
1 Year subscription (included in purchase price)
Before You Go!

Looking for Wedges? Firstly, everything you need to know about wedges plus the essentials of wedges! Also, check out the TaylorMade Milled Grind 3 Wedges! Interested in the older SM Wedges here's our article on the SM8 Wedges! Moreso you can view our article on The Alien Roswell Wedge! Furthermore, However, if you want to read even more articles from us check out the full list here. Similarly, we have all sorts of articles from our article on the Rock Heads most popular courses, to ladies golf outfit guides and MUCH MUCH MORE. So, are you entering this contest? Let us know in the comments below and don't forget to share this article! Finally, let us know in the comments below and share if you enjoyed this article!