Perfect Practice Putting Mat – GOLF PRODUCT REVIEW
Perfect Practice Golf Putting Mat
Using the Perfect Practice Putting Mat, we are practicing our putting indoors today. You can still play golf and work on your putting even if you can't get to the course. The Train Track Alignment Lines and the Auto Ball Return are just two of the fantastic features of the Perfect Practice Putting Mat. To match your particular interior area, it is also available in a few different sizes. Take a look at the product review video from Rock Bottom Golf below!
Product Review Video
Perfect Practice Putting Mat Features:
Official putting mat of Dustin Johnson
Dimensions: Length 15′ 6″ by Width 15″ 2 Hole Training (regulation and reduced size)
Train Tracks Alignment Lines
Crystal Velvet TrueRoll Technology
Auto Ball Return
Drop-in Back Stop
Natural Wood Finish
10-14 Stimpmeter speed (dependent on the underlying surface)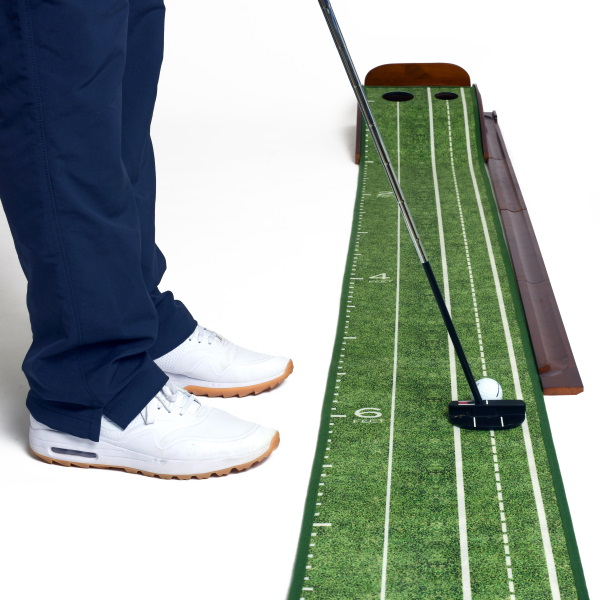 The Perfect Practice Putting Mat offers an 8-foot putting surface for professional-level practice. PGA winners including as Dustin Johnson have hailed the club's innovative design and skill-enhancing features. With the use of accurate track lines, golfers can visualize the trajectory of their ball. When a golfer's shot veers off course, he or she can quickly adjust their stance and swing. The putting mat's base is constructed of adhesive rubber and conforms to any surface to prevent bulging or movement. Two hole sizes are employed to increase training precision. The magnetically linked roll-back track allows for continuous practice sessions.
Before You Go!
How do you practice golf when you can't get to the golf course? Do you use a putting mat? And do you have an indoor driving net? Or maybe you even have a golf simulator in your man (or woman) cave? Let us know down in the comments! We would love to hear how you hit the links without hitting the links!

Take A Look Around!
We have many years of golf and golf-related articles here to read and enjoy. Are you a Garmin fan?
Then take a look at Garmin Golf: 6 Top Selling Garmin GPS Golf Devices! Or maybe you are a Wilson Golf gear fan? Then head on over and read: Wilson Golf: 11 Top-Selling Wilson Golf Products!