Titleist Vokey SM9 Wedges
Hey, Rock Heads, we're back spotlighting the ALL-NEW Titleist Vokey SM9 Wedges!
INTRODUCING SM9 WEDGES
SUPERIOR HANDCRAFTED TECHNOLOGY
Anyone can manufacture a wedge, but it takes a master to turn a piece of high-performance technology into an instrument of creative control. Bob Vokey's six tour-proven grinds are designed to offer creativity, versatility, and consistency, all meticulously developed through years of working with the best players in the world.
ALWAYS GRINDING
TOUR-PROVEN GRINDS
For every shot, every lie, every course, there's a grind fit for your swing. Finding the right grind to match your swing and playing conditions will give you the best turf interaction, contact, and shot performance. Master Craftsman Bob Vokey has spent decades crafting, developing, and improving his tour-proven grinds to fit players of all levels.
PRECISE DISTANCE & TRAJECTORY CONTROL
The best of both worlds. SM9 goes to new heights, taking the forward center of gravity (CG) and raising it even further, promoting a more controlled ball flight and solid contact. Hit it closer more often.
MAXIMUM SPIN / NOTHING SPINS LIKE A VOKEY
SM9's new groove are cut to the edge to maximize spin. Each Vokey wedge is 100% inspected for utmost quality and performance, and a localized heat treatment is applied to the impact area to double the durability of the groove.
TECHNOLOGY
PROGRESSIVE CENTER OF GRAVITY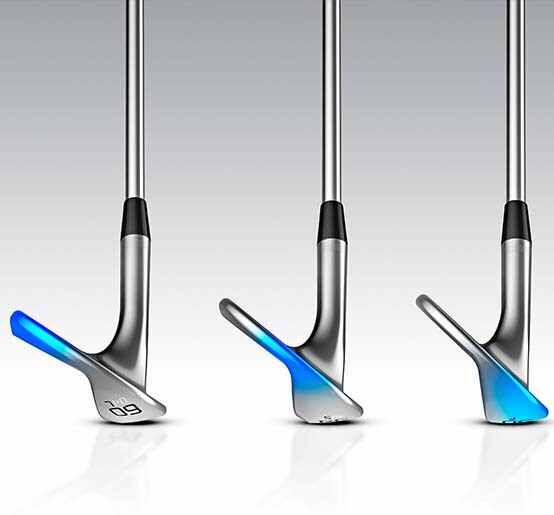 SM9 features a progressive center of gravity (CG) throughout the lofts, which optimizes ball flight, accuracy, and forgiveness. Using tapered top lines and varied hosel lengths, the Vokey R&D team has raised the height of the CG in the higher lofts, which promotes a lower, more controlled flight.

The CG is also forward of the face, resulting in increased MOI, exceptional feel, and a clubface that simply wants to square up at impact.
SPIN MILLED GROOVES
SM9's patented Spin Milled grooves are meticulously engineered through a new cutting process to maximize spin and durability. The process starts by cutting the face perfectly flat with a high-speed saw. Then every groove is individually cut based on the loft and finish; low lofts (46*-54*) are designed with narrower, deeper grooves, while higher lofts (56*-62*) have wider, shallower grooves.

Micro-grooves are individually cut in between grooves, which maximize spin on partial shots. Proprietary heat treatment is applied to the impact area which doubles the durability of the groove without impacting feel, making it the most durable groove in golf. The process is only complete when every Vokey wedge is 100% inspected for utmost quality and performance.
Pitching Wedge Specifications

Gap Wedge Specifications

Sand Wedge Specifications

Lob Wedge Specifications

Products Featured In This Article
Reviews

Before You Go!
Looking for Wedges? Firstly, everything you need to know about wedges plus the essentials of wedges! Also, check out the TaylorMade Milled Grind 3 Wedges! Interested in the older SM Wedges here's our article on the SM8 Wedges! Moreso you can view our article on The Alien Roswell Wedge! Furthermore, However, if you want to read even more articles from us check out the full list here. Similarly, we have all sorts of articles from our article on the Rock Heads most popular courses, to ladies golf outfit guides and MUCH MUCH MORE. So, are you grabbing these drivers? Let us know in the comments below and don't forget to share this article! In conclusion, will you be preordering these wedges? Finally, let us know in the comments below and share if you enjoyed this article!