Rock Bottom Golf's Feb. Ray Cook Putter Giveaway!
It is easy to see why Ray Cook has won over 200 Tour events and all Four Majors! Enter to win your very own Ray Cook Putter! Also, be sure to share and you can earn up to FIVE BONUS ENTRIES per friend who signs up!
Ray Cook Giveaway: Details
Enter once per day to win via Facebook! Don't delay – the contest ends at 11:59 pm EST on Febuary 28th!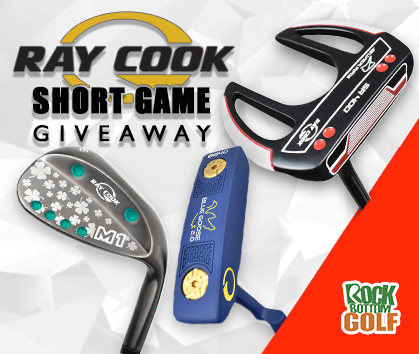 The sweepstake runs from Feb. 1st – Feb 28th at 11:59 pm.
You must be 18+ years old
United States Mailing Address ONLY
All entries will be used and the drawing will be random.
All you have to do is enter your email address. No purchase necessary! If you are chosen as a winner, the email address you submitted will be used to contact you to obtain an address to send the prize.
The sweepstake only lasts until 11:59 pm on Feb 28th, so enter quickly for your chance to win! Enter to win via Facebook today!

Before You Go!
Looking for Drivers? Check out our article on the Cleveland Turbo Drivers! Moreso you can view our article on the Cleveland Golf Launcher XL Drivers! Furthermore, The TaylorMade 300 Mini Drivers are out Here's our rundown! Also, how to swing a driver has an article as well! In addition, there's the Choosing the best driver article. In closing, there are all sorts of Driver articles to check out. However, if you want to read even more articles from us check out the full list here. Similarily, we have all sorts of articles from Mario Golf reviews, to popular courses, and MUCH MUCH MORE. So, are you grabbing these drivers? Let us know in the comments below and don't forget to share this article!