Cleveland Golf Launcher XL Drivers
Hey, Rock Heads, today we're looking at the ALL-NEW Cleveland Golf Launcher XL Drivers available to Pre-order today! We have everything from a list of features to reviews! So, are you going to drop some dollars on these clubs? Let us know in the comments below! And if you like what you read don't forget to share!
"The Launcher XL drivers hit the ball long and straight – plain and simple"

Jeff Brunski, Vice President of Research
Cleveland Golf LAUNCH XL DRIVER FEATURES
XL HEAD DESIGN
BIG BRAIN TIME
This is huge: a bigger head means an MOI of 5,200 g-cm – our most ever in Cleveland Golf Fairway Wood. Add that forgiveness to a high launch from low-and-deep weighting, and you'll enjoy maximum distance with maximum fun.
REBOUND FRAME
POWER IT UP
What's better than one flex zone? Two. Alternating zones of flexibility and rigidity direct more energy into the golf ball for increased ball speed and distance on every shot.
ACTION MASS CB
BALANCE IT OUT
An 8g weight placed inside the end of the grip delivers better balance for more control without extra effort.
ADJUSTABLE HOSEL
DIAL IT IN
Adjust your loft from 9 to 12 degrees to optimize your launch angle, distance, and shot shape. Lofts can be adjusted at 0.5-degree increments with 12 positions in all.
ACCURACY BUILD
MARKSMAN MODE
If precision is your top priority, this custom configuration is a half-inch shorter and does not have to counterbalance. This shortened style is the go-to setup for any player who prefers accuracy over distance. Plus, you'll have more freedom to shape your shots. Action Mass CB 8g grip weight is excluded.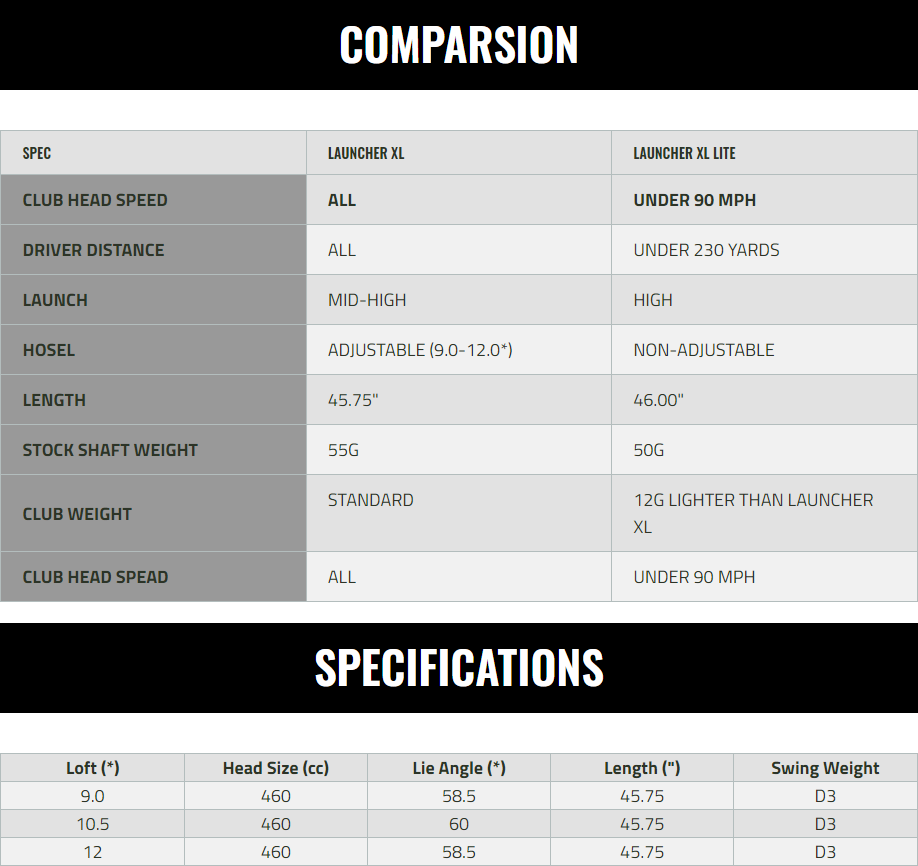 This is the most forgiving driver line we've ever made. More than anything, you're going to see straighter drives more often.

Jeff Brunski, Vice President of Research
Reviews

Before You Go!

Need help purchasing a driver? Check out our handy guide on the perfect driver for YOU! Also, check out our spotlight on the TaylorMade Mini Driver! We have plenty more articles for you to peruse! Xander Schauffele won the Olympics USA USA USA! Find out what was in his bag. Want to find the perfect ladies' clubs for you? Here's a great place to start! There are so many many many more great golf articles to read so if you like our blog make sure to SHARE SHARE SHARE! So what are you waiting for? Lastly, here's an article highlighting YOUR Most Popular Courses! So, are you going to buy The Cleveland Golf Launcher XL Drivers? Let us know in the comments below what you think!