Used Golf Balls – Should You?
Should you play used golf balls?
While there's little doubt about what a golf ball is, we could go into great depth about their quality and longevity, both as a new and a used product. You already know that the core is generally made from a synthetic resin and that the covers are made from Surlyn or urethane.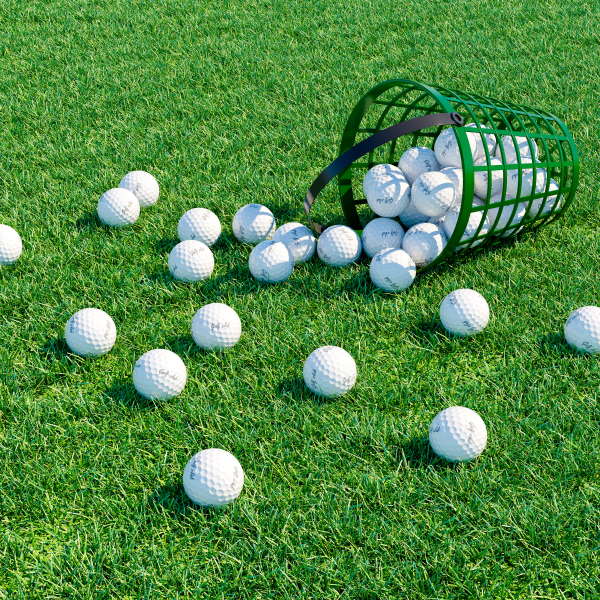 Here's a quick snapshot of what makes up a golf ball, whether it's new or used.
Dimples: The divots, totaling 300-500 dimples, create an aerodynamic quality that's essential to your success on the golf course. The dimples on your used golf ball will slice through the air.
Cover: You might have a golf ball with a Surlyn cover for a higher handicap or a urethane cover for a lower handicap.
Core: The golf core is the compressed interior of the golf ball and can be made of 1 or more layers of materials.
The look and feel of golf balls is one that you know and would probably recognize anywhere. But, there's something else you probably realized; Golf balls are not cheap.
Why Consider a Used Golf Ball?
You may know that Rock Bottom Golf first started our business with reclaimed and used golf balls. So, we're experienced with what used golf balls are and why you might be considering them for your next purchase.
Golf balls, of course, are an essential part of playing golf. With so many options and brands to choose from, it may seem impossible to find the right ball for your game that doesn't completely break the bank.
Another factor to consider is that golf balls are incredibly durable. When golf balls are lost during play, they are often still perfectly playable when found again. Someone else may pick them up for personal use or resale. So, why not cut out the middleman and consider buying those used golf balls yourself. It may just save you some time and money while taking advantage of the longevity of golf balls.

What to Look For – Top Benefits of Used Golf Balls
With used golf balls, each golfer will benefit from a different solution. What works for one player may not work for another. Thus, the right golf ball for you will depend on whether you're a newbie, average player, or an experienced/pro golfer. When looking for the best-used ball in golf, you can start by considering the brands you've already used and grown to prefer.
Some Factors to Consider when Selecting Used Golf Balls
Quality – It would help if you still looked for the highest quality in used golf balls when considering a refurbished version. You might see that the used golf ball is associated with "mint" or "AAAAA" description, but not all retailers use the same scale for quality. Test the waters to see the quality of the used golf balls and keep that in mind for future purchases.
Price – The cost of your golf balls is always a factor, which may be a significant factor in why you're considering used golf balls. We offer a wide selection of used golf balls with brands and pricing options that fit any budget. The right golf ball for you is not necessarily the most expensive one, and that's even more true with used golf ball solutions.
Feel – Each used golf ball is unique. And you may find that one will look and feel right for you, even with a few scuffs here and there. The low cost of used balls may allow you to try out some of the more expensive brands while taking advantage of a lower price point.
We help you explore the options with recommendations that feel great. Our high-quality, used golf balls may also offer the performance edge in spin, control, and distance you desire at discounted pricing.

What Are the Best Used Golf Balls?
Here are a few of the top options for used golf balls from top brands like Titleist, Callaway, and TaylorMade, available from Rock Bottom Golf.
These Titleist Pro V1 Mint Refinished Used Golf Balls feature a Tour-proven feel, lower spin, and higher ball speed. You get the kind of distance and performance you need on the golf course.
These Callaway Chrome Soft Mint Refinished Used Golf Balls feature low 65 compressions on iron shots with an incredibly soft feel. With these balls, you'll get the control you need for aggressive shots, with consistency you can rely on.
These TaylorMade TP5 used balls feature 5-layer core construction. They are a soft-feel ball made for long-distance on each shot. They are specially made to perform their best no matter what club you are using.
Here's a great way to test a variety of brand options for your used balls. This assorted used golf ball bag includes Callaway Warbird, Callaway HEX Pro, Callaway HEX Hot, Srixon AD 333, Srixon Trispeed Tour, Srixon Q-Star, Srixon Soft Feel, Nike PD, Nike Crush, Titleist Gran Z, and TaylorMade.
Explore all the Used Golf Ball options from Rock Bottom Golf.
Find the Best Selection of High-Quality Used Golf Balls for Sale
At RBG, we offer high-quality used balls for sale at an even better discount. You've already come to rely on the quality and performance of the other new and used products we offer. We offer a range of new and used balls from top-rated brands to ensure you find the quality and performance you need.

We use the used and refurbished balls ourselves, and we're confident in the quality! Explore our wide selection of new and used balls for sale along with our other high-performing equipment. Shop from our large selection of Used Golf balls at Rock Bottom Golf.
Trade In Your Used Golf Balls
We've all found old golf balls while walking the course. Well, we want those balls! Trade them in today and turn them into store credit. We accept all different types of balls including:
Mixed Lots
Premium Balls
Titleist
Callaway
TaylorMade
Bridgestone
You can see exactly what your golf balls are worth on our golf ball trade-in page. You will receive your payout within 48 hours. Check out how easy it is to trade in your used golf balls on our reviews page. Free up garage space and clean out those old golf balls today!
Before You Go!
Let us know about your personal experience with used balls down below in the comments! Do you play new or used or a combination of new and used depending on the situation? Let us know!
Also, take a look at some other great articles here. How about some Golf Courses In Exotic Locations? Or get the skinny on hybrids by reading Hybrid Golf Clubs: What Are They? New to the game? Check out How To Swing a Golf Driver: 101! Want to know more about the Ryder Cup? Then check out our Ryder Cup article.
And don't forget to share the love!