The Top 5 Best Summer Golf Destinations!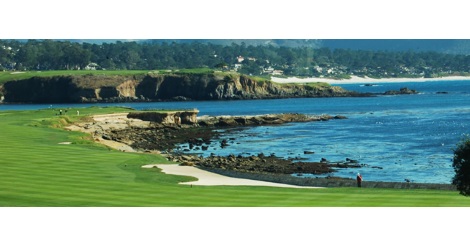 It's officially summer! Warm weather, clear skies, long sunny days, you know what that means! GOLF ROAD TRIP! Summer is the best time of the year to travel and play the courses you watch on TV. If you're looking for inspiration for your next golfing trip, you've come to the right place. This here caveman's been around fer a few… millennia, so I know all the best golfing hot spots. Check out the top 75 best golf courses if you've got the time. But for the Rockheads who are able to travel this year, here's my own personal top 5 best golfing destinations recommendations:
1) Pebble Beach Resort/Inn at Spanish Bay, California
The views, the history, the excellence – when it comes to Pebble Beach, nothing comes close. No wonder the USGA has, on more than one occasion, cut into the traditional 10-year gap for Pebble to host the U.S. Open. Plus Monterey County, California, is full of other amazing things to do on your vacation – drive the PCH, visit the Monterey Aquarium, or visit Big Sur!
2) Ritz-Carlton, Kapalua at Maui, Hawaii
There's only really one word to describe the Plantation Course. GORGEOUS! This course has everything -surf, sand, mountains, and a challenging design. If you make it out to Hawaii this summer, make sure to take some time out of laying on the beach to hit this course!
3) The Greenbrier, White Sulphur Springs, West Virginia
For you east coast-ers, it don't get much better than The Greenbrier – it is a Forbes four-star and AAA Five Diamond Award winning resort( just in case you doubt Yelp.com). You can walk a piece of golf history. The first Ryder Cup in its current format took place here in 1979. Luxury accommodations plus great golfing – count this caveman in!
4) Bandon Dunes Golf Resort, Oregon
If your on the west coast, take advantage of the four links and a par 3 courses at Bandon Dunes Golf Resort in Oregon. Upon the opening of Bandon Trails, its third course,, Golf Odyssey, the newsletter devoted to golf travel, named Bandon Dunes, The Best Place on the Planet for Golf. I think that means you Rock Heads will like it.
5) Sandy Lane, Barbados
If your looking to travel to the tropics for your next golf outing you should seriously consider making a trip down to Sandy Lane, Barbados. Make sure to stay at the resort so you're able to play the Green Monkey course. Designed by Tom Fazio, this course is carved from an old stone quarry and is exclusive to Sandy Lane guests.
So there's my list of best golfing destinations, but let's hear from you traveling Rock Heads! Where have you gone for your best golf trips? Have any good golf stories yet? Leave your tales in the comment section!