Callaway MD4 Wedges (Mack Daddy 4)
This week we are going short game with a look at the Callaway MD4 Wedges, the Mack Daddy 4. The new talked about technology from Callaway on these wedges is the Groove-In-Groove design that grabs the ball and creates better spin on every shot. Callaway added a new X-Grind as an option on these wedges along with the C-Grind, S-Grind, and W-Grind. The new X-Grind features a narrow, high bounce crescent sole.
Mack Daddy 4 sets the standard for wedge performance by combining innovative performance technologies with premium components. It's the finest collaboration yet between industry legend Roger Cleveland and Callaway R&D, and was influenced heavily by Tour pro input.

Be sure to take a look at the review videos below to learn more about all of these grind options and the spin control on the new Callaway MD4 Wedges. We also included the MD4 wedge spin challenge videos featuring Phil Mickelson, Maverick McNealy, Adam Hadwin, and Kevin Kisner. Let us know what you think of these wedges down in the comments. Do you have them in your bag? Do you think they can improve your short game?

Here are some of the Callaway MD4 Wedges' features.
Micro-positive surface texture with micro-grooves creates 84 cover-gripping points for max spin.
Four Sole Grinds to suit a variety of playing styles, attack angles and course conditions.
Satisfying feel from soft carbon steel, precise CG locations and crisp turf interaction are combined to deliver to remarkable feel at impact.
And a choice of platinum chrome or black matte finishes for a premium appearance that will suit any golfer.
Callaway Mack Daddy 4 Wedges – Mark Crossfield Review
Well, now I've seen everything. In this video, Mark and Coach test out the new Callaway Mack Daddy 4 wedges by playing them on a new course I am unfamiliar with. Since the weather is not cooperating, they set up a testing range in the hallway complete with obstacles… Just like the real thing. 😀 They do finally get outside to hit a few and test out the clubs. Mark goes into why spin rate promotion may be a selling point but it may not be the only aspect to be concerned with when buying a wedge. Do you agree? Check out this video to get the real low-down on these new Callaway wedges including what the technology and design of these wedges can do for your game!
Callaway MD4 Review – GolfBox Reviews
In this video, Alex from GolfBox reviews the Callaway MD4 wedge. He is outside, much to his surprise, to hit a few and give his impressions on these wedges. Alex gets in-depth about the different grinds and how to use them on various shots… with examples! He even comes across some Austrailian spectator fans. Watch to find out more about these great wedges.
Mack Daddy 4 Wedge Spin Challenge
Adam Hadwin v Kevin Kisner
Young Guns
Phil Mickelson vs Maverick McNealy
Products highlighted in this article: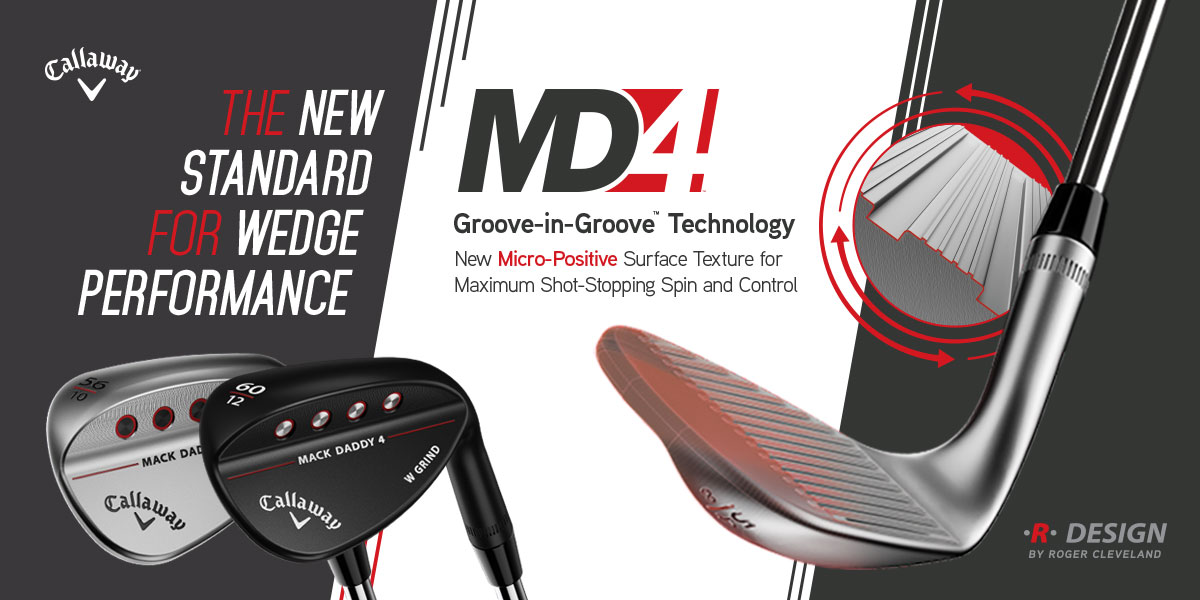 And before you leave, don't forget to check out the Callaway Rogue Irons, Rogue Drivers, GBB Epic Driver, and Epic Irons! Get more featured gear articles here!