Quick Look at the 2018 AT&T Bryon Nelson
This week our Quick Look is at the 2018 AT&T Byron Nelson.
Byron Nelson Event History
The Bryon Nelson event is located in the Dallas – Fort Worth area. It has been a PGA event since 1944, when the famed golfer Byron Nelson won the inaugural event. Over the years the event has been hosted as various properties.
Lakewood CC (1944)
Dallas CC (1945)
Brook Hollow CC (1946)
Preston Hollow CC (1956)
Glen Lake CC (1957)
Oak Cliff CC (1958 – 1967)
Preston Trail Golf Club (1968 – 1982)
Las Colinas Sports Club (1983 – 1985)
TPC at Las Colinas (1986 – 1993)
Cottonwood Valley at Four Seasons (1994 – 2008)
TPC at Las Colinas Four Seasons (1994 – 2017)
Trinity Forest (2018)
This is the first year that Trinity Forest will play host, you can find reviews and more regarding the course below.
Since 1944 this event has had many winners and a lot of them are house hold names. Sergio Garcia, Bruce Lietzke and Jack Nicklaus are all two time winners. Sam Snead is a three time winner and Tom Watson has won this event a total of 4 times. Last years winner was Billy Horschel, he won in a playoff over Jason Day. In 2005 the event served as a record breaker, meaning it broke Tiger Woods record streak of 142 cuts made.
Trinity Forest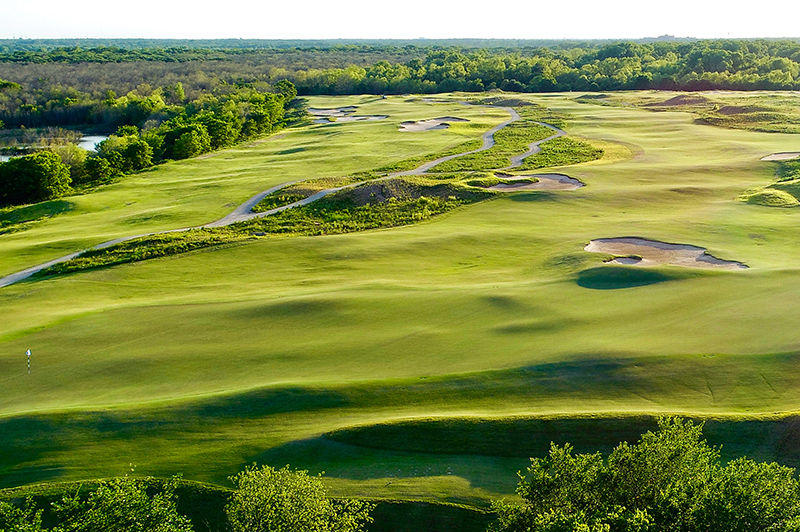 When we first saw Trinity Forest our first thought was…we could spray the ball all over the course! While not having trees and being more of a European style golf course Trinity Forest will make you play your best game.
An article from FriedEgg.Co shows just how tough this course will play. We personally love the shared green of #3 & #11, it is 36,000 square feet! We are hoping that these greens play fast this weekend so we're able to witness the scrambling ability of today's PGA players.
While we are big fans of this years venue some are not, Paul Earnest (Former Director of Golf of the Four Seasons), is not a fan. Granted we think it may have to do with the tournament leaving the Four Seasons for Trinity Forest.
Some would even say "It may take time" that is according to Bill Coore, one of the course designers. Coore and Ben Crenshaw built this course on an old landfill. That is a key reason to so many raised greens, you can't dig to deep or you'll be a landfill again.
All we know is that we're excited to see how year one at Trinity Forest plays out!
How To Watch
Looking to watch the 2018 AT&T Byron Nelson? Click here for the schedule or read below.
Thursday, May 17th Rd. 1: Golf Channel, 4-7 PM ET
Friday, May 18th Rd. 2: Golf Channel, 4-7 PM ET
Saturday, May 19th Rd. 3: Golf Channel, 1-2:30 PM then CBS, 3-6 PM ET
Sunday, May 20th Rd. 4: Golf Channel, 1-2:30 PM then CBS, 3-6 PM ET
With so many tough greens make sure you come by our website to get the gear that will help your short game!