TaylorMade SIM 2 Giveaway
Hey Rock Heads Are YOU looking to get your game up to speed in 2021? Look no further, Rock Bottom Golf has you covered: Grand Prize: TaylorMade SIM2 Driver 2nd Prize: TaylorMade SIM2 Rescue 3rd Prize: 3 Dozen TP5 Balls (winners choice of TP5 or X) Make sure YOU sign up TODAY for your chance to win our Taylormade SIM 2 giveaway!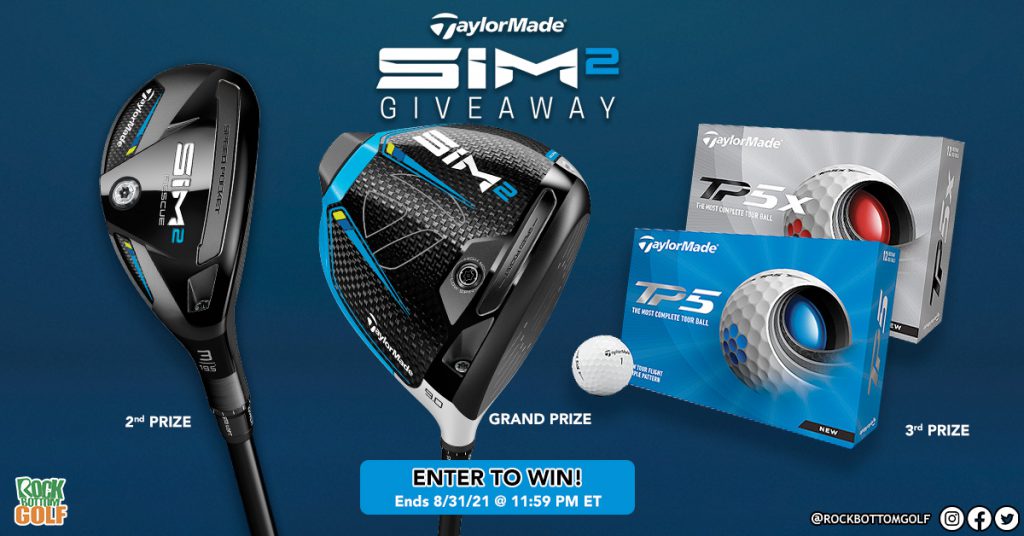 Enter once per day to win via Facebook! Don't delay – the contest ends at 11:59 pm EST on August 31st!
The sweepstake runs from August 1st – August 31st at 11:59 pm.
You must be 18+ years old
United States Mailing Address ONLY
All entries will be used and the drawing will be random.
All you have to do is enter your email address. No purchase necessary! If you are chosen as a winner, the email address you submitted will be used to contact you to obtain an address to send the prize.
Not on Facebook? That's ok! Go here to enter!
The sweepstake only lasts until 11:59 pm on August 31st, so enter quickly for your chance to win! Enter to win via Facebook today!
Features & Technologies
New Forged Ring Construction
Forged Ring Construction is the key that unlocks a new dimension in distance and forgiveness. Forged from a lightweight and high strength aluminum that is milled to an exacting shape, it unites a massive rear weight, a full carbon sole, crown and a new milled back cup face. Creating a driver designed for increased stability and forgiveness, giving golfers the confidence to take on any tee shot
Speed Injected Twist Face
Improves ball speed by calibrating each head to the threshold of the legal speed limit with corrective face curvature also protecting against heel and toe mis-hits
SIM Inertia Generator
The asymmetric Inertia Generator is designed to provide faster club head speed through advanced geometry and aerodynamic analytics. A full lightweight carbon sole enables the redistribution of mass for a deeper CG and enhanced forgiveness
Thru-Slot Speed Pocket
Our most flexible Speed Pocket™ design engineered to maximize ball speeds and produce additional forgiveness on low face strikes
Split Mass Weighting
Designed to enhance forgiveness while allowing for pinpoint target swing weights during custom assembly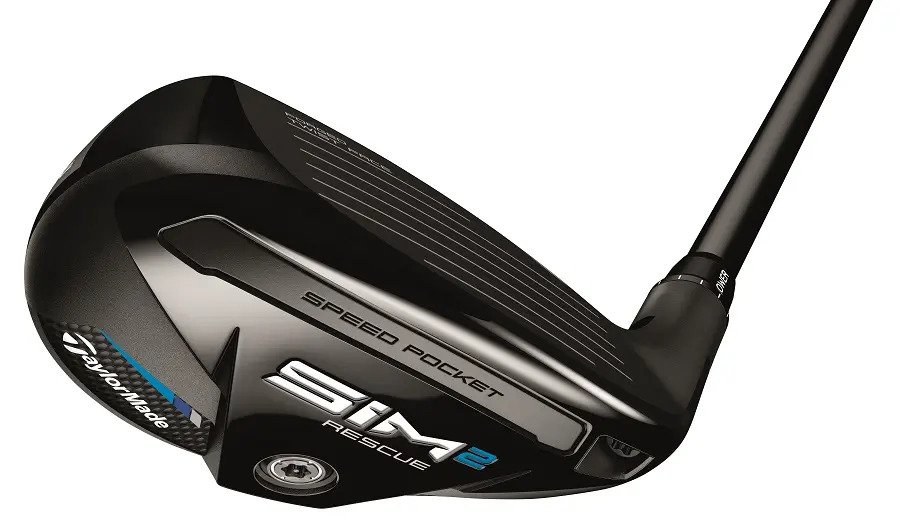 New V Steel Design An updated V Steel design redistributes weight to enhance forgiveness while maintaining low CG properties. A depressed heel and toe minimize sole area, adding to V Steel's turf interaction and versatility benefits
Forged C300 Steel Twist Face Forged High-strength C300 steel allows for a strong fast face engineered for explosive ball speeds, paired with Twist Face to overcome inherent golfer tendencies on miss-hits for straighter shots
New Asymmetric Thru-Slot Speed Pocket New asymmetric Thru-Slot Speed Pocket provides increased face flexibility, preservation of ball speed and distance, especially on low face strikes
Adjustable 1.5* Loft Sleeve Provides adjustability and personalization to optimize trajectory and face angle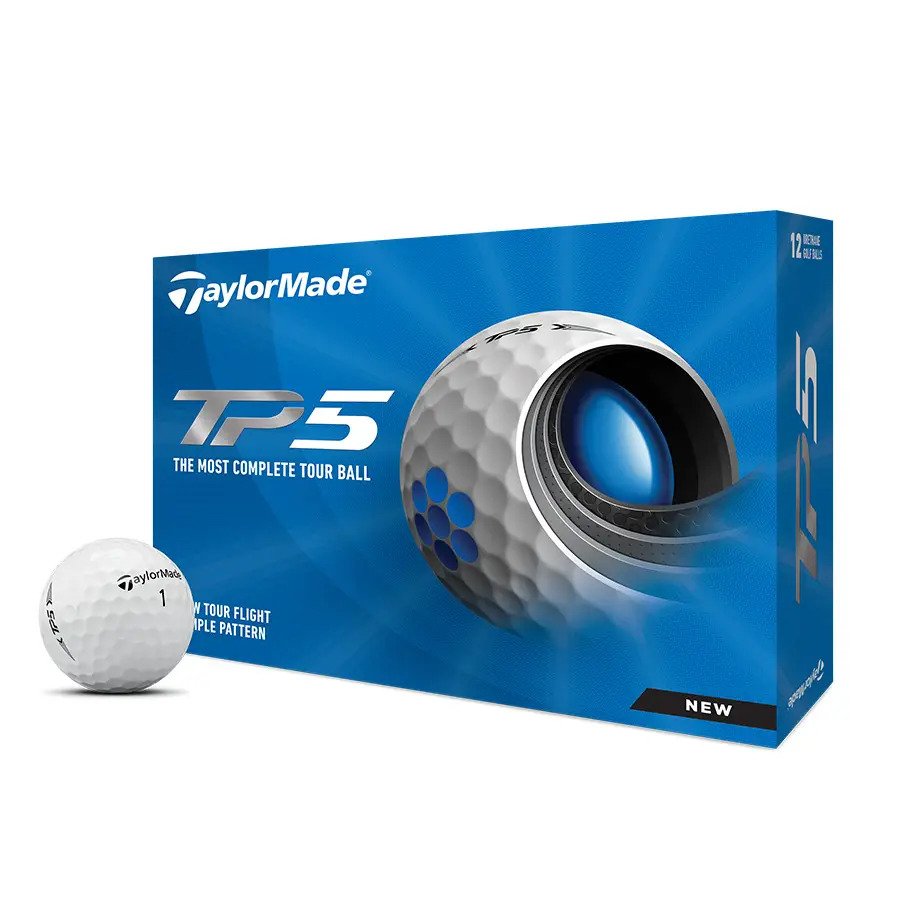 INCREASED CARRY WITH NEW TOUR FLIGHT DIMPLE PATTERN The new Tour Flight Dimple Pattern unlocks the next level of aerodynamics while promoting maximum carry distances and a steep angle of descent for extra stopping power, especially on long irons.
TOUR CONTROL & COMPLETE PERFORMANCE TP5 is our softest and highest spinning Tour ball, with enhanced stopping power inside 100 yards. Fueled by a soft cast urethane cover, its increased greenside spin provides control and precision where it matters most: Closest to the pin.
EXPANDED CORE, INCREASED SPEED A larger and more reactive core is the centerpiece of the new TP5. It is designed to store and release energy more efficiently, delivering a spring-like effect that results in faster ball speeds and increased distance compared to its predecessor.
THE PATH TO DISTANCE The path to distance has evolved with the all-new TP5. In 2017, a movement began with the optimal spin and launch conditions provided by our 5-layer construction. Then we increased ball speed with the HFM Speed Layer and now we've added advanced aerodynamics with the Tour Flight Dimple Pattern.
Speed-Layer System The Speed-Layer System is comprised of four increasingly stiff layers to produce more ball speed. The result is more carry distance off the tee, more control in the wind, and more spin around the greens.
High-Flex Material (HFM) TP5 features a material called HFM (High-Flex Material), delivering higher ball speeds through a greater rebound effect. HFM acts like a tightly wound spring that builds energy and rebounds quickly, generating more ball speed.

Before You Go!

Check ou Need help purchasing a driver? Check out our handy guide on the perfect driver for YOU! Moreso do you also need help choosing a perfect Golf Ball check this article! And don't forget to Dial In Your Yardage with our guide to choosing the perfect GPS! Also, check out our spotlight on the TaylorMade Mini Driver! Mario Golf: Super Rush Reviews are in check to see if this game beats the previous entries! There are so many many many more great golf articles to read so if you like our blog make sure to SHARE SHARE SHARE! So what are you waiting for? Lastly, here's an article highlighting YOUR Most Popular Courses! So, are you going to buy The All NEW T-Series Irons? Let us know in the comments below what you think!