Mizuno JPX919 Hot Metal Irons Spotlight
Welcome back, Rockheads! This week we are taking a closer look at the Mizuno JPX919 Hot Metal Irons. These irons just won the 2019 Most Wanted Game Improvement Iron award from MyGolfSpy.com for "exceptionally consistent ball speeds, carry and total distance."
The Hot Metal irons are made with Chromoly 4140M, a material that allows a multi-thickness face creating incredible ball speeds and better feel. These irons from Mizuno are made with seamless construction, a stability frame, and re-engineered sound ribs. Find out more about them below!
A benchmark in iron design – the JPX919 Hot Metal combines an incredible balance of launch speed and soft, controllable landing angles.
Mizuno
Mizuno JPX919 Hot Metal Iron Feature Highlights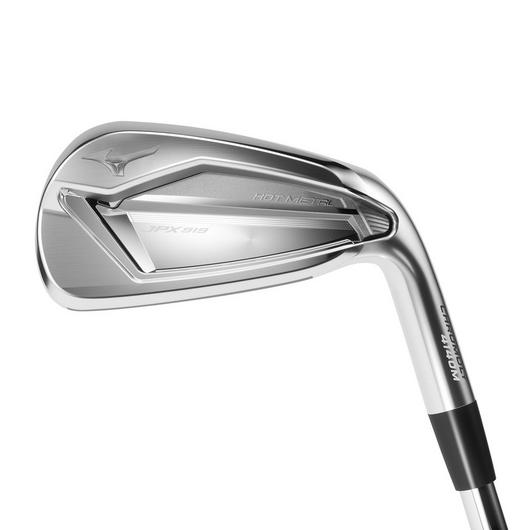 Chromoly 4140M – A new multi-thickness face is created from Chromoly 4140M and provides incredible ball speed and feel.
Seamless Construction – A one-piece construction provides an improved level of feedback at high ball speeds.
Stability Frame – A stability frame design enhances stability, launch and loft for soft landing approach shots.
Re-Engineered Sound Ribs – Sound ribs create vibration patterns that deliver a more satisfying sensation at impact.
Mizuno JPX919 Hot Metal
Here is another great iron review video from Mark Crossfield. He goes out to the course to test out the Mizuno JPX919 Hot Metal irons. After that, he goes indoors to get some hit data. See what he has to say about these awesome looking irons!
Mizuno JPX919 Hot Metal iron / Chromoly 4140M
Take a look at this Mizuno product promo video to see a highlight of the tech and design in the Hot Metal irons.
Mizuno JPX919 Hot Metal Pro irons
Here is one more product promo video for the Pro version of the JPX919 Hot Metal.
The use of a high strength Chromoly 4140M and seamless cup-face construction produces the highest ball speed from any Mizuno iron.
Mizuno
Mizuno JPX919 Hot Metal Specification

Mizuno's new stability frame ensures that each iron within the set produces the correct flight apex – with landing angles steep enough to control shots into the green.
Mizuno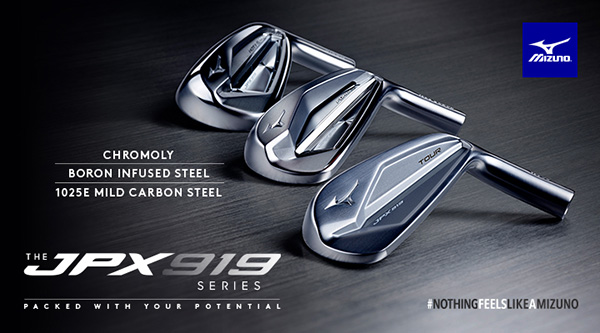 Looking for some more Mizuno gear to investigate? Take a look at the RB Tour Golf Balls, the ST190 Drivers, the S18 Wedges, and MANY more Mizuno gear articles here!
Check out RBG's latest video on YT: Team RBG Virginia putting practice w/ Custom RBG Callaway Truvis Golf Balls