Mizuno JPX 919 Tour Irons Spotlight
Welcome back! The Mizuno JPX 919 Tour Irons are the focus of this week's golf gear spotlight! They were just awarded MyGolfSpy's "Most Wanted Players Iron" for 2019, beating out the Cobra King Forged CB irons and the Callaway X Forged irons. The Tour version of the JPX 919 Irons is the more bladed version of the JPX 919 irons family. The lofts are a little smaller, and they are more of a "true blade" iron. Check out all the information and videos below, and see if these awesome looking irons are for you.
What do you think of the Mizuno JPX 919 irons? Will you be trying them out? Do you know someone that plays them or the other two versions, the Hot Metal or the Forged?
Mizuno JPX 919 Tour Irons Feature Highlights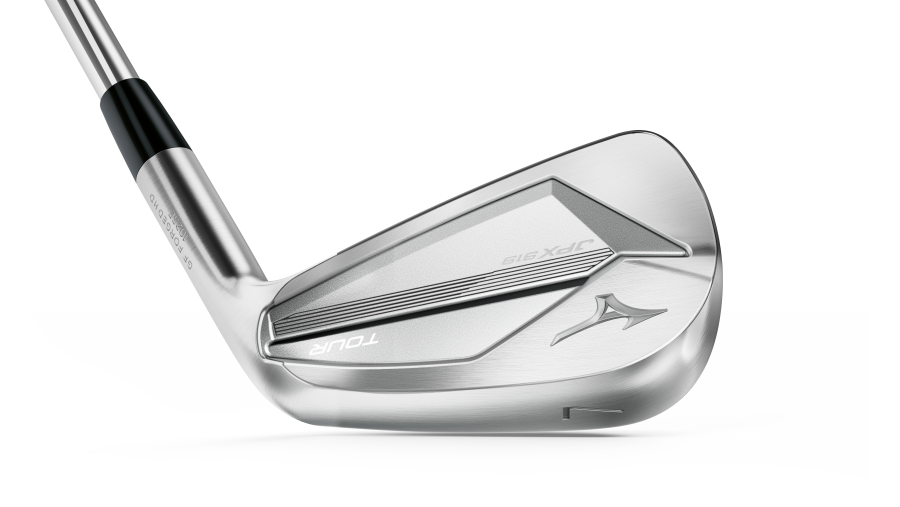 Elite Shotmakers Profile – A cleaner look over the ball, the JPX919 Tour is created to satisfy the needs of the golf's elite shotmakers.
Stability Frame – Open at the heel portion to enhance stability and launch, whilst producing a tour-preferred vibration/sound.
Tour Grind Top Edge – The edge is narrowed to match grinds commonly requested on Tour. Reduced to 4.6mm on 7 iron.
Fractional Sole Width Increase – In balance with reduction of top edge creates easier launching long irons (5% measured increase in CAD data).
Pearl Brush – Chrome plating with a new, more durable pearl finish to soften the 919's precise lines in high sunlight.
Grain Flow Forged Hd (High Density) – Forged from a single billet of 1025E mild carbon steel in Hiroshima Japan for a distinct Mizuno feel during impact.
Mizuno JPX 919 Tour Irons Specifications

The JPX919 Tour is surprisingly stable for its size, demonstrated in its tight distance patterns from off-center strikes – the critical benchmark for elite level shotmakers.
Mizuno
STUNNING LOOKING……NEW MIZUNO JPX919 IRONS! – Rick Shiels Video Review
Here is a great video from Rick Shiels! He does a very thorough review of the entire line of JPX 919 irons including the Hot Metal, Forged, and the Tour irons. Rick seems very impressed with the whole Mizuno JPX 919 iron lineup. Take a look at the video to see a good compare and contrast between all three versions.
MIZUNO JPX TOUR 919 IRONS – Mark Crossfield Video Review
Mark and Dan take the Mizuno JPX 919 Tour irons out to the course to put them through their paces. They have a bit of a discussion about the JPX 919s as they play various clubs from the iron set. Both of them, at one point, find themselves trying to escape a bunker. See what they have to say.

Don't forget to check out our other Mizuno gear spotlights. Take a look at the JPX 919 Hot Metals irons, the RB Tour golf balls, and many more!
---
Behind the Scenes @ RockBottomGolf.com | Photoshoot | Ray Cook, Hot-Z, Bullet, and Solus Golf
Looking for a little behind the scenes from RGB? Take a look at our latest outdoor product photoshot!