TaylorMade GAPR Hybrids Spotlight
Hello, my fellow Rockheads! This week we are spotlighting the new TaylorMade GAPR Hybrids. They come in three different options, the GAPR HI, the GAPR MID, and the GAPR LO. These clubs are meant to fill the gap between your shortest metalwood and your longest playable irons better than ever before according to TaylorMade. Check out the specs below along with the videos as well, and let us know what you think in the comments! Will the new TaylorMade GAPR Hybrids fit into your bag?
TaylorMade GAPR Hybrids features at a glance.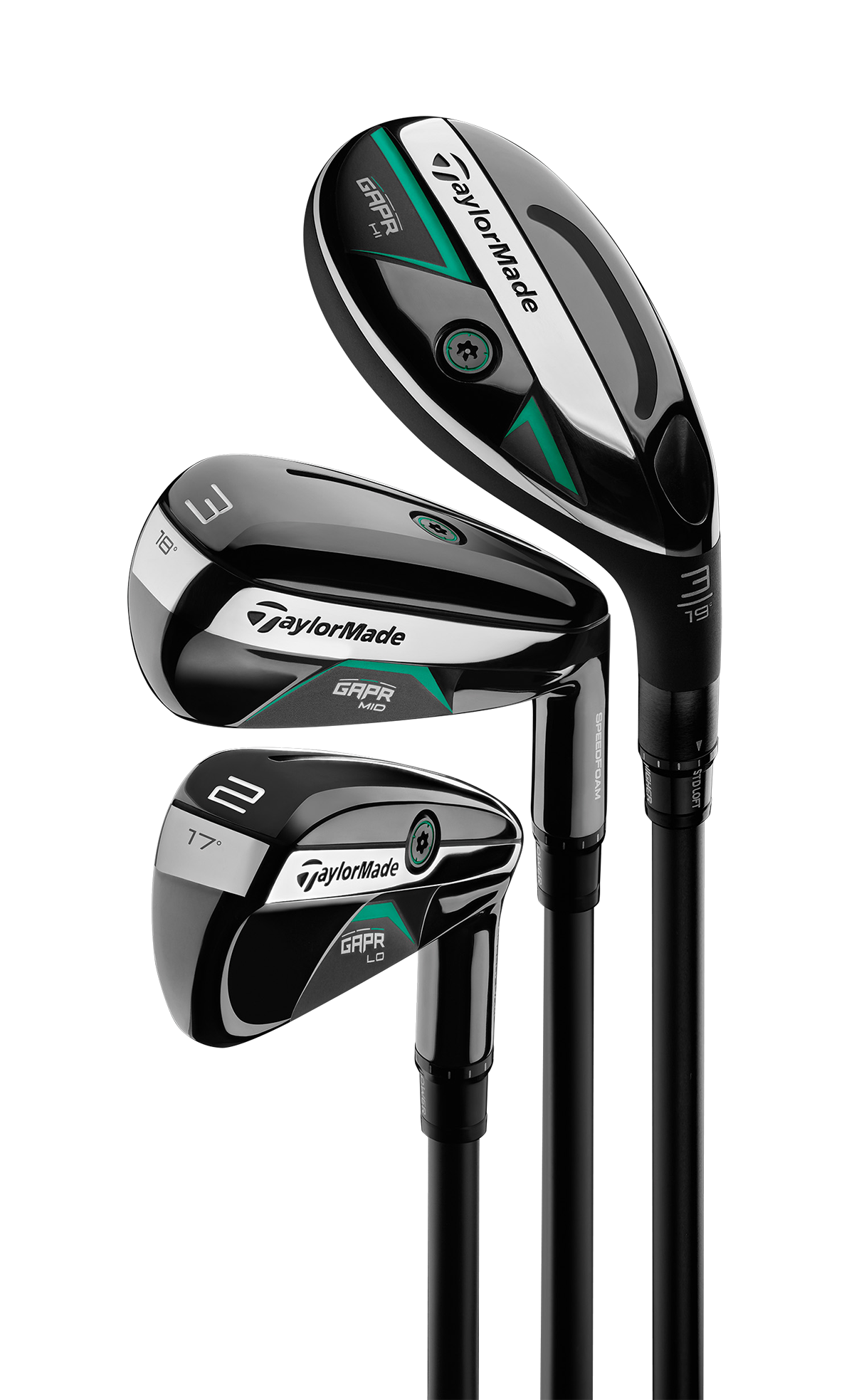 SpeedFoam – SpeedFoam delivers optimal performance through better ball speed and feel.
Three Different Options

LO – GAPR LO is the ultimate utility club for all golfers from the Tour's elite to the weekend warrior.
MID – This mid-launching product can be used to attack long par 3's and long 2nd shots where your traditional long iron comes up short.
HI – GAPR HI delivers needed versatility to hit it high, hit it far, and keep it straight from any lie.

Loft Sleeve – The Loft Sleeve provides improved opportunity for perfect gapping and desired trajectory.
Optimized CG – The Optimized CG creates a hotter, higher launch for more distance and improved playability.
LO GAPR Club Specs

MID GAPR Club Specs

HI GAPR Club Specs

NEW TAYLORMADE GAPR LO, MID & HI – RICK SHIELS FULL REVIEWS
In this video, Rick Shiels does a full review of the new TaylorMade GAPR Hybrids. Rick goes out onto the course and hits all three options, the LO, MID, and HI GAPR Hybrids. Take a look at the flight and hit results he received with each one, and see which flavor of the new TaylorMade GAPR Hybrids was more forgiving and was a better flight overall. Rick sums up and gives his personal views and opinions on these clubs including looks, price, and performance.
TaylorMade GAPR Review
Tomo Bystedt from THP Golf TV reviews the new TaylorMade GAPR Hybrids in this video. First, he explains where these clubs are going to fit in the whole line-up of clubs in your bag and who should play them. Then Tomo goes into detail about each of the three versions of the GAPR Hybrids and the hit dynamics that are found in each of them. And he also goes on to talk about the technology and design features. Take a look!
TAYLORMADE GAPR REVIEW: THE UTILITY AS USED BY TIGER WOODS AT THE OPEN
A little tea in the morning and Sam Mellor from GolfMagic is fully into his detailed review of the TM GAPR hybrids. He heads out to the driving range and then hits the course to test them out. Check out his results and his opinions on these new clubs from TaylorMade Golf.
TaylorMade GAPR
In this TaylorMade GAPR Hybrids promotion video, TM introduces their new GAPR clubs. They are clubs that will fill the gap between your longest irons and your shortest woods, and like all other TaylorMade clubs, they are created with cutting-edge technology and design features.
Tiger Woods Stinger with GAPR at the 2018 Open Championship (Slow Mo)
Watch a slow-mo capture of Tiger Woods hitting a shot with the new TaylorMade GAPR Hybrids at the 2018 Open Championship.
Products highlighted in this article:
So tell us what you think! Will you be closing the gap in your game with these TaylorMade GAPR Hybrids? And don't forget to check out a few of our other TaylorMade featured gear articles like the TaylorMade M3 & M4 Irons, the TaylorMade M3 & M4 Drivers, and the TaylorMade TP5 & TP5x Balls!