Clubhouse Finds-Sun Mountain 2.5+ Stand Bag

Sun Mountain
Founder – Rick Reimers
Year Founded – 1981
Headquarters – Missoula, Montana
Feature Item – 2.5+ Stand Bag
This week on Clubhouse Finds-Sun Mountain 2.5 Stand Bag. Are YOU looking to walk more in 2019? If so then we have found the bag for YOU! Sun Mountain is well known in the golf community especially for their golf bags and the 2.5+ was designed for the avid walking golfer. This bag redefines the features that can be offered in an ultralight golf bag. It has contoured, high-density foam shoulder straps for maximum carry comfort, a roomy, 9.0" top and five pockets including a beverage pouch. All of this and it still weighs under three pounds. The 2.5+ bag was awarded Golf Digest Editors' Choice for Best Lightweight/Ultra-Lightweight Stand Bag in 2018. When you hear the words lightweight or ultra-lightweight your mind may go, "well it is too small to hold my stuff" BUT you'd be surprised.
So not only is it a light golf bag but it also can hold EVERYTHING that you would need during a round. The bag is also versatile enough to be used in the roughest of terrains.
Options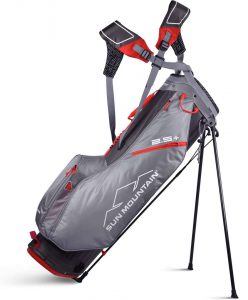 Sun Mountain is one of the leading golf bag companies currently on the market, with such a high profile name they provide many options for you to choose from.
Black
Black/Green
Black/Red/Gunmetal
Gray/Cobalt
Gunmetal/Gray/Red
Navy
Navy/White/Red
Steel/Black Yellow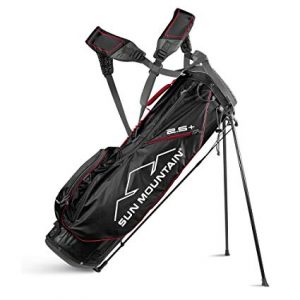 Features
Four-Way top
Four full-length dividers
Five pockets include a full-length apparel pocket; a velour-lined, valuables pocket; a beverage pouch and a ball pocket with two-way zippers.
Lightweight, high-strength-to-weight plastic top and bottom, and ultra-lightweight, highly durable carbon fiber legs.
X-strap dual strap system is easy to get on and off and works well as a single strap for short carries
Matching rain hood included.
If you're in the market for a new golf bag that is lightweight, versatile, and durable then look no further than the Sun Mountain 2.5+ Stand Bag. Get yours at Rock Bottom Golf TODAY!