Tee It Up Recap-Genesis Open
Genesis Open
Winner
J.B. Holmes – What a great win for J.B. Holmes. This is his 5th win on the PGA Tour and his first one since April 5, 2015. Justin Thomas had the lead on Sunday but shot +4 and ended up losing by 1 stroke to Holmes. The event did face some issues with the weather. On Thursday play had to be canceled due to heavy rainfall. Holmes was also criticized for his slow play, round 4 took 5 1/2 hours to complete. Slow play has been a topic of discussion this year on the PGA and European tour, does that matter to YOU when watching an event?
What's In The Bag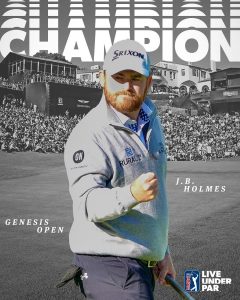 Leaderboard
1. Holmes -14
2. Thomas -13
3. Kim -12
T4. McIlroy -11
T4. Leishman -11
6. Howell III -9
T7. Scott -8
T7. Thompson -8
T9. Rahm -7
T9. Taylor -7
T9. Ortiz -7
T9. D. Johnson -7
T9. Matsuyama -7
T9. Kraft -7
What a great way to celebrate a win! Congrats J.B. Holmes!
Goodnight from Riveria CC!