With the World's Top 3 Facing Problems, Who'll Take The PGA Championship?
Today Kicks off the 2010 PGA Championship, so before I get too involved in my opinions, Here is few quick list of the details:
Dates and Times: Thursday August 12th through Sunday August 15th


Where to Watch: 30 hours of live coverage! Thursday & Friday 1-8pm ET on TNT, Saturday and Sunday 11am to 2pm ET on TNT and from 2pm-8pm ET on CBS
Which Course is being played: Whistling Straits in Haven, Wisconsin, and she's a par 72, 7,514 yarder Sitting along a 2 mile stretch of Lake Michigan

Whats the Style: We are talking old school links, modeled after some great courses in the UK and Ireland.

Have We Seen It Before: The course is only 12 yrs old, but has hosted the 2004 PGA Championship and the 2007 U.S Senior Open

Will We See It Again: Plans so far for the Whistling Straits to host the 2015 PGA Championship and the 2020 Ryder Cup!

How Many players on the field: 156
What's the purse: $7.5 Million
If you want to play in the Championship you must be: one of the past 10 former PGA Championship winners, a winner of the Masters, U.S Open and Open Championship in the past 5 years, the current Senior PGA Champion, one of Top -15 players including ties from the 2009 PGA Championship, one of theTop-20 from PGA Professional National Championship, top-70 in official PGA Money Standings, a member of the 2008 U.S/European Ryder Cup Teams, a winner of a tournament co-sponsored or approved by the PGA Tour, or given one of the at-large Invitations chosen by PGA of America, of which they gave out 34.
Whats the weather looking like: Possible scattered storms through Saturday, temperatures in the upper 70's to low 80's.
Tee Times: You can find those here.
Ok, that's out of the way, so lets get down to business.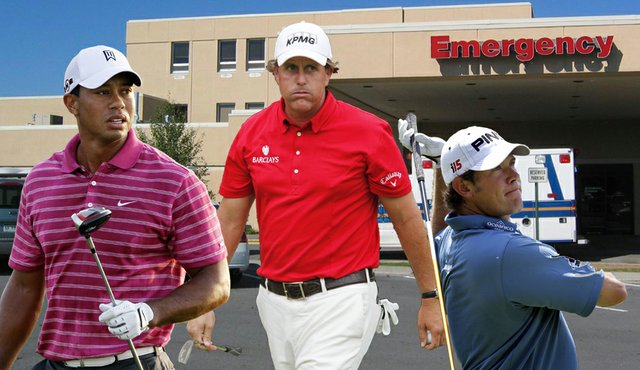 This caveman has heard about "Complications" for the PGA Championship. It would appear that the World's Top 3 Golfers are struggling with other things, shifting their focus away from the tournament.
Tiger Woods just shot his worst ever professional round ever at Firestone last week. He finished 18 over par, at a course where he had capture 7 titles out of his last 10 (well 11 now) appearances. Headlines have read, Tiger's Pro career is over. But In This Caveman's opinion, the pressure on Tiger Woods, had to have been suffocating. He was expected to do great things, not only by himself, but by his fans. After weeks of being in a slump, it would be hard to not allow that to have an affect on you.
To make matters worse, Ryder Cup Captain Corey Pavin was cited as saying "Tiger is a shoo-in" for the Us Team, even if he didn't make the cut. Less than 24 hours, Pavin "tweeted" (that's right folks, he made the announcement over Twitter) that he was misquoted. That Seems Professional to me.
So a week after once again disappointing himself and his fans, Tiger is Faced with the PGA Championship. The pressure may be explosive.
Then there is World's #2 Phil Mickelson. How did he do at Firestone last week? Well let's just say he finished after Tiger. But apparently he has an excuse. Days after he went in for treatment for Psoriatic Arthritis. He did, however, say that he suffered from intense pain in his hip, ankle, elbow, shoulder joints and tendons to the point where he couldn't walk when he woke up several days at the U.S Open. He Tied for 4th in that event, so there is still hope. But what did Phil do when he was younger to cause him that much pain? Was he a line backer for the Steelers?
What about World #3 Lee Westwood? Well, he is out. He is in the middle of a 6-8 week rehab for a ruptured plantaris muscle in his right calf. What in the world are these golfers doing to themselves? Are these on the course injuries or were they out mud wrestling during the celebrity tournament in Tahoe? I do know that Lee has been trying to stay fit, you can check out his exercise regiment here.

So the World's Top 3 are struggling, what does that mean for the PGA Tour?
Well I am definitely still completely excited for this tournament. There are going to be a bunch of great golfers on the field.
Here are a few of the Pairings that This Caveman is excited about:
Steve Stricker, Rory Mcllroy and Adam Scott
Ricky Fowler, Ryo Ishikawa and Justin Leonard
Anthony Kim, Paul Casey and Jerry Kelly
John Daly, Davis Love III and Padraig Harrington
Even Mickelson and Tiger are paired with some excellent golfers:
Phil Mickelson, Graeme McDowell and Louis Oosthuizen
Tiger Woods, Vijay Singh and Y.E. Yang

This caveman is expecting a great tournament, and perhaps even some brilliant upsets. Maybe even John Daly will have a shining moment, beyond just with his outfits.

So who's your pick Rock Heads?
~Scratch