Clubhouse Finds-Clicgear 3.5

Clubhouse Finds-Clicgear 3.5
This week on Clubhouse Finds-Clicgear 3.5 pushcart. Clicgear is a Hong Kong based company but their American office is based out of Canby, Oregon as a division of ProActive Sports. One of the hottest trends in golf over the past few years has been the pushcart mafia, are you a member? If you're not then you may be after hearing about the Clicgear 3.5 pushcart.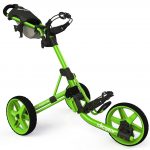 The Clicgear Model 3.5 is the latest model of Clicgear's successful three wheel golf pushcart design. The Clicgear 3.5 is a legacy when it comes to winning awards on My Golf Spy. In 2017 and 2018 the pushcart placed 2nd and in 2019 they finally captured the #1 spot.
My Golf Spy Says:
"The Clicgear 3.5+ is back on top in 2019 thanks to its rugged, best-in-class durability. It offers a large main storage compartment along with a mesh basket. Its wide wheelbase provides superior stability without sacrificing maneuverability. Those eyeing expansion will appreciate that Clicgear offers the most robust selection of accessories of any pushcart brand"
My Golf Spy Pros: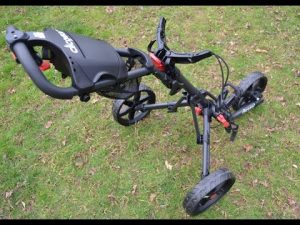 Built like a tank
Incredibly stable
Relatively compact when folded
Easy to fold/unfold
Numerous color options
My Golf Spy Cons:
When you rank consistently at the top of the Most Wanted, how can you argue with those results? The Clicgear 3.5 pushcart is truely a great cart.
Will YOU be joining the golf pushcart mafia?