Sniff's Weekly Roundup
I've collected the top news and trending topics in the golf world so you can catch up on what you need to know! I've included some of the top stories as well as some of the most interesting stories and links from all around the internet! Enjoy! -Sniff
Here's What's Happened: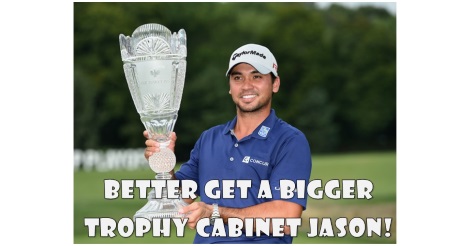 1. Jason Day does it again with win at The Barclays. Day finished at 19-under par — a six shot lead over second place finisher, Henrik Stenson. This victory comes just two weeks after Day won at The PGA Championship — his third victory in the last four events and his fourth PGA Tour victory this year. This weekend's tournament was also the first event of the FedEx Cup Playoffs.
Thanks everyone! Just trying to get better each week. Great start to playoffs and looking forward to next week. More goals to reach.

— Jason Day (@JDayGolf) August 30, 2015
2. Jordan Spieth knocked out of top ranking after just 14 days. Two weeks after Spieth took over the top spot, Rory McIlroy has recaptured his crown. Spieth failed to make the cut at The Barclays this weekend, ending his reign. Spieth became the second-youngest golfer ever to become the top-ranked golfer in the world. McIlroy, by the way, didn't even play this weekend.
3. John Daly is playing golf less than 24 hours after his lung collapsed. Daly was on the 18th hole at Deerfield Country Club in Mississippi when he collapsed suddenly and was taken to a nearby hospital for treatment. Doctors found no other health issues besides the collapsed lung. The 49-year-old golfer was playing in a small local tournament with friends.
Still very sore & dealing w/the issues from my rib injury in '07 that has caused me a lot of pain. Looking forward to seeing everyone soon!

— John Daly (@PGA_JohnDaly) August 30, 2015

4. 34-year-old LPGA veteran Kris Tamulis earns first tour victory. After 186 attempts, Tamulis finally ended Sunday at the top of the leader board. The Yokohama Tire LPGA Classic was delayed twice throughout the weekend causing Tamulis to play 29 total holes the final day of the tournament. Tamulis said she tried to avoid looking at the leaderboard all day. The last time she won was in her college years at Florida State, although she did have a pair of runner-up finishes in 2004.
Links I Love:
Phil Mickelson nearly pulls of an amazing backward-over-the-head shot at The Barclays.
Brian Harman makes not one but TWO holes-in-one in one round — a feat that has only happened three times in PGA Tour history. Watch the second one here:
What to Watch For: