Bubba Watson Wins Again At Travelers!
Sniff's Weekly Roundup
I've collected the top news and trending topics in the golf world so you can catch up on what you need to know! I've included some of the top stories as well as some of the most interesting stories and links from all around the internet! Enjoy! -Sniff
Here's What's Happened: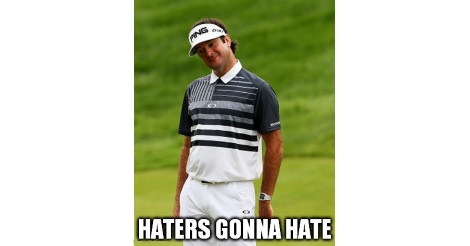 1. Bubba Watson snags top prize at Travelers Championship. For the second time, Watson won at Travelers, this time outlasting Paul Casey on the second hole of a playoff. Casey came back from a five shot deficit to force a playoff with Watson. With his eighth career PGA Tour victory — all of which occurred after 2010 — Watson's win this weekend has generated buzz about Bubba being a shoe-in for the World Golf Hall of Fame.
Travelers Championship gives Bubba Watson $29,046,070 in PGA Tour career earnings, puts him at #22 on the all-time $ list

— Darren Rovell (@darrenrovell) June 28, 2015
2. Na Yeon Choi captures ninth career LPGA title. Despite a shaky round at Pinnacle Golf Club in Rogers, Arkansas on Sunday, Choi eagled the par-4 16th to ensure a two-stroke victory at the Walmart NW Arkansas Championship. Choi fell behind Stacy Lewis after heading into Sunday as the leader. Lewis bogeyed her final hole and ended up tying for third. Lewis has gone 27 tournaments without a victory.
Na Yeon Choi Edges Out Stacy Lewis in Arkansas – next stop US OPEN http://t.co/UEK3AKfsdM @bethbethel #womensgolf pic.twitter.com/i8yYbYQlsJ

— Women's Golf (@womensgolfcom) June 29, 2015
3. Jeff Maggert wins Senior Open in Sacramento. This is Maggert's second major victory this year, his first coming last month at the Regions Tradition. He finished at 10-under-270 at a rainy Del Paso Country Club. The group of Maggert, Bernhard Langer, and Colin Montgomerie have now combined to win the previous eight majors — Maggert with two, Langer with three, and Montgomerie with three.
4. Former Marine shoots a 57, including three holes-in-one, at an amateur tournament in Virginia. Patrick Wills made four birdies in the first six holes and two of his holes-in-one came on a par-4. The tournament was at Laurel Hills Golf Course in Lorton, Virginia. The score was so amazing, even the tournament coordinator didn't believe it when he was told. However, Wills has witnesses — two of his sons watched it all happen.
Links I Love:
Minutes after a fan yelled out to use a 4-iron, Bubba Watson hit an amazing shot with a wedge. He turned to the crowd and replied, "That's why you're on that side of the ropes." The shot set up a putt for birdie.
Donald Trump is telling everyone who works at Univision to stay off of his golf course? It can all be chalked up to politics. You can read more here.
What to Watch For:
The Greenbriar Classic begins Thursday from The Old White TPC in White Sulphur Springs, West Virginia.