David Lingmerth Wins His First, While Tiger Plays His Worst
Sniff's Weekly Roundup
I've collected the top news and trending topics in the golf world so you can catch up on what you need to know! I've included some of the top stories as well as some of the most interesting stories and links from all around the internet! Enjoy! -Sniff
Here's What's Happened: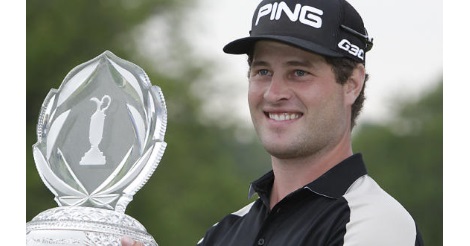 1. David Lingmerth earns his first PGA Tour victory in a playoff at Memorial. Lingmerth defeated Justin Rose on the third hole of the playoff while earning the praise of golf legend and Memorial host Jack Nicklaus. "Boy, did he play well coming down the stretch," Nicklaus said. Not only was this his first win ever, but it was Lingmerth's first top-ten finish of the season. It's safe to say Lingmerth didn't head into the weekend looking for a win. He was ranked 212th in the world and was the third-to-last finisher to make the field at Memorial.
2. Tiger has the worst round of golf in his life. Woods finished last in a field of 71 players and with the odd number, he was playing solo all day Sunday. Critics are calling for Tiger to go back to the ways of Tiger, that whatever he is trying to learn now is not helping, but hindering. Some fans were surprised Woods even finished the tournament, half expecting him to blame a injury and withdraw. He finished the tournament two over par, a fairly pointless score. His Saturday, however was far worse– he shot an 85 — the worst round of golf of his career.
3. Jordan Spieth finishes third at Memorial, shooting one of Sunday's best round. His round included six birdies and a crazy eagle. He finished the day with a 65, which he says he is very happy with. With just one tournament between now and the US Open, Spieth looks to become the first player since Tiger Woods in 2002 to win the Masters and US Open in the same year. "[This is] exactly what we needed for momentum into the US Open."
Jordan Spieth's swing is "a classic example of function before form." Study it: http://t.co/3RRqMHWDNE pic.twitter.com/3eMRdwJULs

— Golf Digest (@GolfDigest) June 8, 2015
4. LSU wins NCAA Men's Golf Championship. Breaking a 60-year drought, the men's golf team at Louisiana State University brought home the trophy last week after defeating other Division I powerhouses in eight rounds of golf. The Tigers entered the tournament ranked No. 7, and had to defeat No. 2 Vanderbilt and No. 3 Georgia to advance. To watch highlights and learn more about the tournament, you can visit the NCAA's website.
Links I Love:
Phil Mickelson tipped some kids $99 at a local lemonade stand outside of Columbus, Ohio. Read the story from the Columbus Dispatch.
Mark Calcavecchia wins his third Champions Tour title while wearing bacon pants. Yes, you read that correctly.

Mark Calcavecchia going with the bacon pants today @PFGGolfClassic in honor of Blue Ribbon Bacon Fest in Des Moines. pic.twitter.com/3tuoQcVro9

— Champions Tour (@ChampionsTour) June 5, 2015
Justin Rose hit a fan in the head with a golf ball and someone got it on Vine. Watch and read more at SBNation.
What to Watch For:
The FedEx St. Jude Classic begins Thursday from Memphis, Tennessee.