Matt Jones Wins Australian Open In His Home Country!
Sniff's Weekly Roundup
I've collected the top news and trending topics in the golf world so you can catch up on what you need to know! I've included some of the top stories as well as some of the most interesting stories and links from all around the internet! Enjoy! -Sniff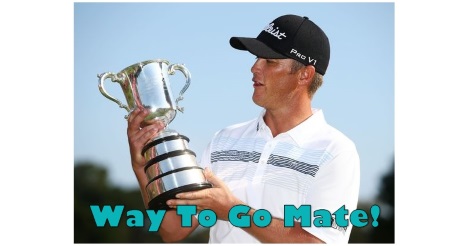 Here's What's Happened:
1. Matt Jones, a Sydney native, wins his second PGA tournament at home at the Australian open this weekend. Jordan Spieth was hot on his tail as was the Australian Open defending champion, Adam Scott – Spieth and Scott tied for second place. Jones had the lead heading into Sunday, but struggled on the front nine, giving up a double and triple bogey. But four birdies on the back nine was enough to come out on top, ending the tournament 8-under par.
When a picture says a thousand words #AusOpenGolf pic.twitter.com/sWTGb6yc5M

— Australian Open Golf (@AusOpenGolf) November 29, 2015
2. Matt Jones, Rod Pampling, and Nick Cullen all qualify for the British Open finishing first, fourth, and tied for fifth, respectively at the Australian Open. (Cullen was able to break the tie by being the higher ranked golfer). This weekend's champ, Matt Jones, seems especially amped to get back to the open, claiming the tournament was built for his type of game play. The 2016 British Open will be played in July at the Royal Troon.
3. Rod Pampling breaks Jordan Spieth's record at the Australian Open. Pampling was eager to set the records straight. Last year he finished runner-up to Spieth at the Australian Open. He fell behind six strokes while Spieth was setting a course record of 63. Pampling set out on Sunday determined and even though he came in fourth, his record setting 61 was a proud improvement for the golfer.
Links I Love: