Jordan Spieth Breaks Records, Wins Big at The Masters
Sniff's Weekly Roundup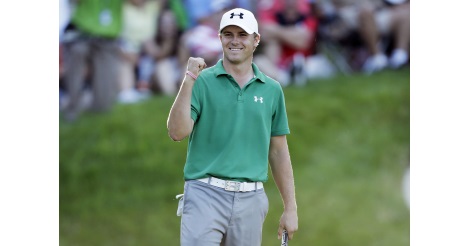 I've collected the top news and trending topics in the golf world so you can catch up on what you need to know! I've included some of the top stories as well as some of the most interesting stories and links from all around the internet! Enjoy! -Sniff
Here's What's Happened:
1. Jordan Spieth becomes the youngest golfer since Tiger Woods to wear the Green Jacket. Unless you have been living under a rug since Thursday, you've heard of Spieth's spectacular performance at Augusta. The 21-year-old (the same age, by the way, that Woods won The Masters for the first time in 1997) also became the first golfer since 1976, and only the fifth ever, to lead the tournament from start to finish. After placing second last year at his Masters debut, Spieth entered the tournament a heavy favorite. He shot a 64 in his opening round and finished Sunday at 18-under par. Despite the list of popular names on the leaderboard, no other golfer would come closer than two strokes away from Spieth the entire weekend — and that only lasted for one hole. Spieth now ranks No. 2 in the world, just behind Rory McIlory.
Here's what Jordan Spieth's victory at #TheMasters means… pic.twitter.com/GYMDr33e6e

— PGA TOUR (@PGATOUR) April 12, 2015
2. Tiger makes the cut at Augusta, plays a complete 72 holes. He may have fallen short of the Green Jacket, but Tiger's performance at Augusta is nothing to scoff at. On Saturday, Woods shot a 68, bringing with it flashbacks of the days Tiger was in his prime. His game was a little off on Sunday, shooting a 73 and he ended up finishing tied for 17. At one point on Sunday, Tiger jammed his wrist after a weird shot when he hit a tree root hidden under the pine straw. Afterwards, Tiger said he had to pop a bone back into place to continue on. Although his game has much improved since the last time we saw him earlier this year, Tiger says we won't be seeing him for a while. He is going to take some time off to continue to improve his game. 3. A host of big names round out the top-ten at The Masters. Spieth held off some of best in the game: names like Mickelson, McIlroy, Johnson, Fowler, Poulter, and many more. Lefty tied with Justin Rose for second place, finishing at 14-under. Next was Rory McIlroy at 12-under. Hideki Matsuyama finished in fifth place at 11-under, with Paul Casey, Dustin Johnson, and Ian Poulter tying for sixth. Hunter Mahan, Zach Johnson, and Charley Hoffman rounded out the top ten finishing at 9-under. You can see the entire leaderboard here. 4. Defending Masters champion Bubba Watson finishes at par. Looking for his third Green Jacket, Watson fell a bit short. But he still got to pass the jacket on to Speith.
Congratulations @JordanSpieth! I'm honored to pass on @TheMasters green jacket to you. You deserve it! #Champion — bubba watson (@bubbawatson) April 13, 2015
Links I Love: