Sniff's Weekly Roundup: Tiger Needs Practice
Sniff's Weekly Roundup
TIGER NEEDS PRACTICE
I've collected the top news and trending topics in the golf world so you can catch up on what you need to know! I've included some of the top stories as well as some of the most interesting stories and links from all around the internet! Enjoy! -Sniff
Here's What's Happened: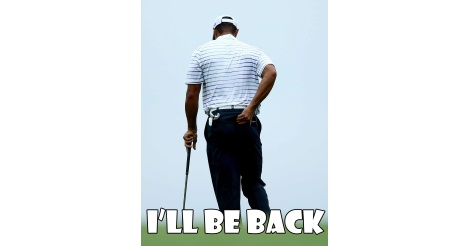 1. Tiger Woods announces that he needs practice, and is taking a break from golf. At age 39, Woods' illustrious career will go down in history as one of the greatest of all time with 14 major wins. He helped make the sport young and hip and his partnership with Nike helped launch golf into a global sport. One could argue that at the height of his career, Tiger Woods was one of the most recognizable athletes on Earth. But now, after months of speculation as to how good he will return, Woods announced last week that he is taking a break from golf to practice. This comes just several months after firing his swing coach and after a more than disappointing 2014 season. His start to 2015 was less than superb after shooting a career-worst 82 at his first tournament and then withdrawing at Torrey Pines earlier this month. A note on his personal website said his decision was not based on his health, but simply that his play was not up to par (pun intended) and that he will not play until he feels he can compete at the highest level. He also sent out this tweet:
Back is good, game will be too. http://t.co/U5anYWsQeK

— Tiger Woods (@TigerWoods) February 11, 2015
2. Brandt Snedeker wins at 2015 AT&T Pebble Beach National Pro-Am. And according to Golf Digest, he won using a $20 driver. In his 11th season, Snedeker's win has helped him earn more money this year than he did in the entire 2014 season. At the end of last year, Snedeker fell out of the top-50 for this first time in his career and was on the verge of not qualifying to play in the World Golf Championships. His win changed all of that and also secured his spot at The Masters and PGA Championship. He finished at -22, breaking his own scoring record.
3. John Daly misses the final round at Pebble Beach despite being on the leaderboard earlier in the weekend. After scoring a 65 in the first round, Daly was one shot off the lead. He managed seven birdies in the opener, but fell quickly in the third round with just four birdies in his final 36 holes. Daly stole headlines with his effort early on, but it seems Pebble Beach just isn't Daly's place to play. He made just one of 12 cuts at the course throughout his career.
4. Two men survive a plane crash on a golf course in Utah. A mechanical issue caused a small plane's engines to stop working. Fortunately, the pilot and co-pilot managed to land the plane on a practice green at Valley View Golf Course in Layton, Utah. Both men walked away from the crash in fair condition and nobody on the golf course was hurt.
5. First female ESPN anchor and golf historian passes away. Rhonda Glenn was a longtime journalist for ABC, ESPN, and USGA and last April was awarded GWAA's William D. Richardson Award, for her lifetime of contributions to golf at the Golf Writer's Association dinner during Masters week. Glenn had retired from the USGA to help Nancy Lopez complete her memoir. She was 68 years old.
Links I Love:
Tom Lewis gets pissed after a bad shot and breaks his golf club on the European Tour. From SB Nation.
Billy Horschel made his caddy a millionaire after paying him 10% of his winnings from last year. From For The Win, USA Today.
Bubba Watson appeared on Access Hollywood last week to talk about his "rap career", being a dad, and Justin Bieber? See video below.
What to Watch For:
The Northern Trust Open starts Thursday at Riviera Country Club in Pacific Palisades, California.