Youth Shines At The Byron Nelson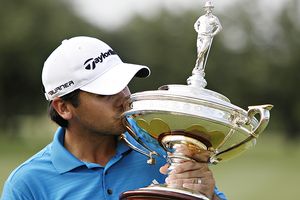 The spotlight at this weeks HP Byron Nelson Championship was shared between two up-and-comers; 22-yea-old Jason Day, and 16-year-old Jordan Speith.
This was Day's first win on the PGA Tour and came 3 years and 65 PGA tour events after he set the record for youngest winner on the Nationwide Tour at 19. Even being sick couldn't stop this golfer, he said:
"Yeah, started with a cold and then turned into bronchitis, and then the swine flu after that, and now I have a sinus infection. I'm actually on meds, and they're pretty heavy duty stuff, and they do make me a little sick at times, but everything is starting to come back."
And then there was Jordan Speith. Jordan became the 6th youngest player to make a PGA tour cut and tied for 16th, pretty respectable for his first go. Speith was playing as an amateur and passed up a paycheck that would have amounted to over 91k! So when does he plan on going pro? Prior to this tournament, he had planned on waiting until after college, but maybe this experience changed his mind.
Add them to the mix with Rory McIlroy and Ricki Fowler, the future of golf is looking pretty excellent. What do you think Rockheads?

~Scratch