The Greatest Golf Quotes!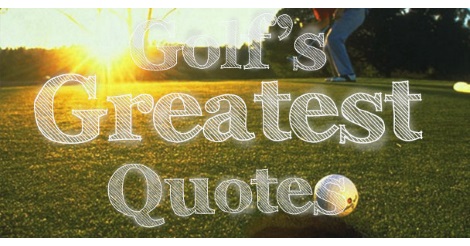 One of the things I've always loved about golf is the number of notable personalities and characters that have picked up the sticks over the years. Today's Tour pros like Tiger, Phil and the rest are just the latest in a long line of loopers who cracked wise almost as often as they cracked 80. Arnold Palmer, Jack Nicklaus, Chi Chi Rodriguez, and Lee Trevino were all great golfers with a serious sense of humor. I like to think Lee was talking about me when he said, "My swing is so bad I look like a caveman killing his lunch!"
Below you'll find some of my favorite and funniest golf quotes. Feel free to add yours if you don't see it on the list!
-Scratch the Golfin' Caveman
"I have a tip that can take five strokes off anyone's golf game: it's called an eraser." ~Arnold Palmer
"One under a tree, one under a bush, one under the water." ~Lee Trevino, describing how he was one under during a tournament
"Reverse every natural instinct and do the opposite of what you are inclined to do, and you will probably come very close to having a perfect golf swing." ~Ben Hogan
"If you think it's hard to meet new people, try picking up the wrong golf ball." ~Jack Lemmon, actor
"The only time my prayers are never answered is on the golf course." ~Rev. Billy Graham
"I would like to deny all allegations by Bob Hope that during my last game of golf, I hit an eagle, a birdie, an elk and a moose." ~Former President Gerald Ford
"Golf is deceptively simple and endlessly complicated; it satisfies the soul and frustrates the intellect. It is at the same time rewarding and maddening – and it is without a doubt the greatest game mankind has ever invented." ~Arnold Palmer
"Golf is a game in which you yell 'fore,' shoot six, and write down five." ~Paul Harvey
"Read more at They call it golf because all the other four letter words were taken." ~Raymond Floyd
'I think golf is literally an addiction. I'm surprised there's not Golf Anonymous." ~Larry David
"I was a pitcher, and my dad played in college. The hardest day of my life was telling him I was going to quit to focus more on golf. But with golf, I felt like the game can't be perfected, and that motivated me." ~Jordan Spieth