Women's Golf Clubs Buyers Guide – What You NEED To Know!
How To Select The Very Best Golf Club For Women
Choosing the right golf equipment for women can be challenging, especially women's golf clubs! So be sure to get your facts straight and narrow your choices; keep it simple.
To choose the right golf club for women, consider the size, the type of club you need: driver, woods, irons, or hybrids, and your skill level.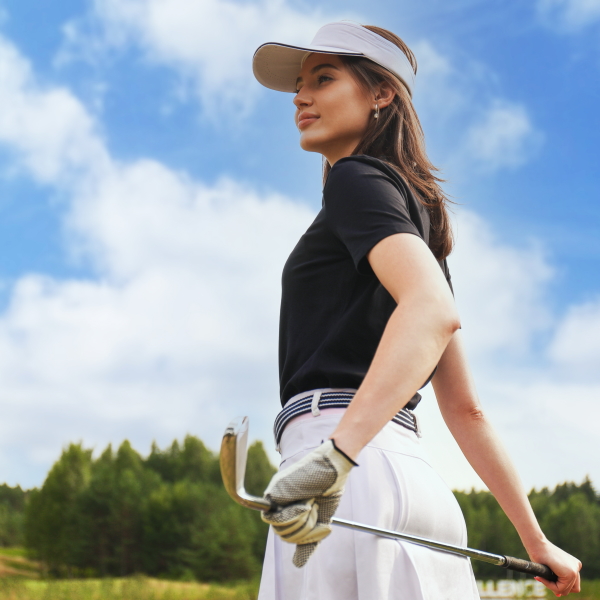 Size is significant when choosing golf clubs for women. You want to ensure that your clubs are sized correctly for your height and strength. Selecting the proper size can be the most challenging part of buying golf equipment for women, but it is possible to find a set of clubs that fits well. You can measure your height and compare it against the recommended club lengths for women golfers to determine what size you should get.
Finally, consider your skill level when selecting golf clubs for women. If you're starting, opt for beginner sets of clubs rather than more advanced ones. Considering your skill level will ensure that your golf equipment is tailored to beginners and can help you get the most out of your game.
If you are a beginner, consider purchasing a complete golf set instead of buying each club individually. Complete golf sets have all the essential golf clubs to get you started. And most even include golf bags and headcovers! There are sets for men, women, and junior golfers. So here is a few women's club suggestions to get you started.
Women's Complete Golf Sets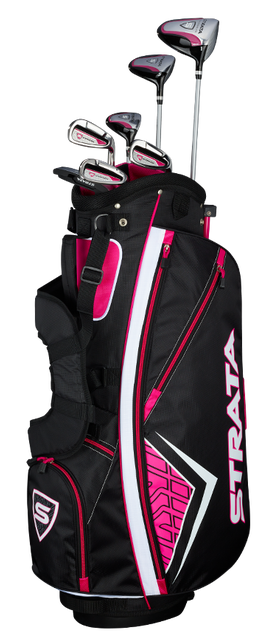 The Strata 11-Piece Women's Set is designed to provide you maximum performance immediately out of the box for more confidence from tee to green. The lightweight 460cc forged driver, fairway wood, hybrid, irons, and putter comprise a set specially built for women to provide a superb combination of distance, forgiveness, and control with very easy-to-hit clubs.

The Fly-XL women's complete set comes with a full bag of lightweight and forgiving clubs for easy launch and distance. For longer, straighter drives, a titanium driver (12.5*) has a larger form and heel-biased weighting. And a premium bag brings everything together and offers a 14-way top, a velour valuables pocket, and seven zipped compartments.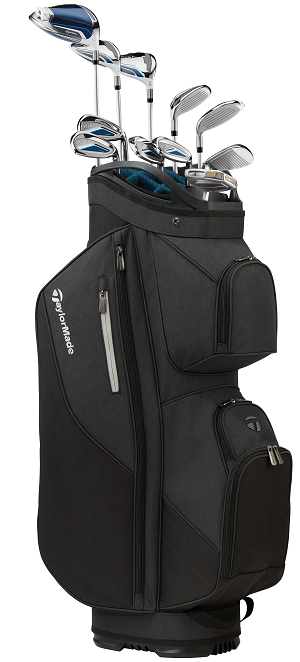 TaylorMade's newest women's set, the Kalea Premier, is designed for lightweight speed, effortless launch, and maximum forgiveness – combining innovative technology with the option to customize a set to your unique game. Every club is supported by Tour-proven technology and fully fashioned to provide more clutch putts, more precise long irons, and more huge drives off the tee.
Size Clubs For Height
The size of your golf club affects overall shot control, including distance, accuracy, and power. So it's essential to choose the right size for your height. A golf club's length goes from the top of the grip to the bottom of its head. This measurement should correspond with your arm length –– if you are shorter, you should use shorter clubs, and vice versa.
It's also important to consider the weight of the golf club. Heavier clubs can be more difficult to swing, so opt for lighter clubs if you're new to the golfing world. Using the correct weight will help you learn proper form and how to generate power without straining your body.
Top Women's Golf Clubs
Size, type, and skill level must be considered for women when selecting golf clubs. The only way to ensure improvement in your golfing stats is to use the best golf clubs that complement your swing! With that said, our top choices for women's golf clubs include the following:
Women's Drivers, Fairway Woods, & Hybrids Clubs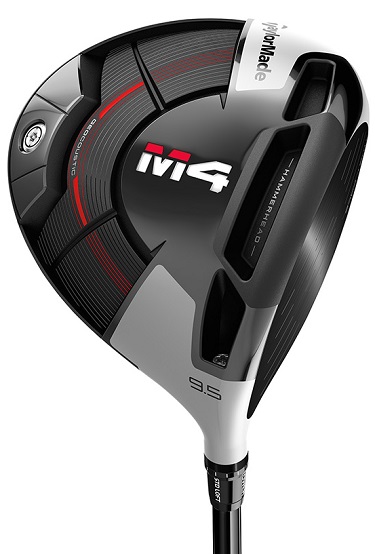 This driver is designed for optimal forgiveness and distance. This M4 features a lightweight shaft and a speed pocket design to increase ball speed. It also comes in various colors, so you can customize your golf equipment to match your style. Women love this club because it's easier to generate more power and control with every swing.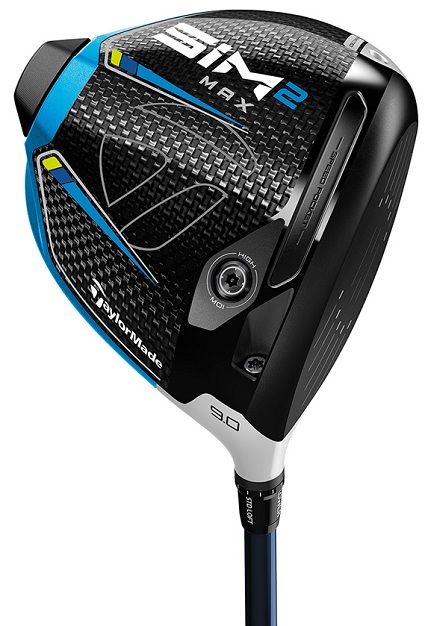 TaylorMade reshaped the driver, then rebuilt it. Rebuilding the driver from the ground up provides both forgiveness and distance. SIM2 Max's Forged Ring Construction is the key to unlocking consistently great distance and optimal forgiviness. It is finely milled from lightweight and high-strength aluminum and integrates the vital components of the driver head into a single force. And this creates a driver that is developed for forgiveness and power, giving you the confidence to take on any tee shot.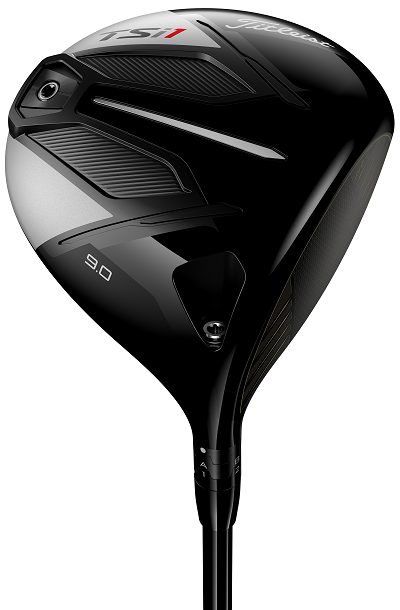 The TSi driver provides four alternative methods for players to take advantage of our most advanced metals lineup. Find the one that fits you and experience what it's like to step up to every tee and be ready to perform. For moderate swing speeds, the TSi1 provides maximum launch and distance. TSi2 offers the most forgiveness across the face and enhanced performance. Plus, the TSi4 driver aggressively reduces spin.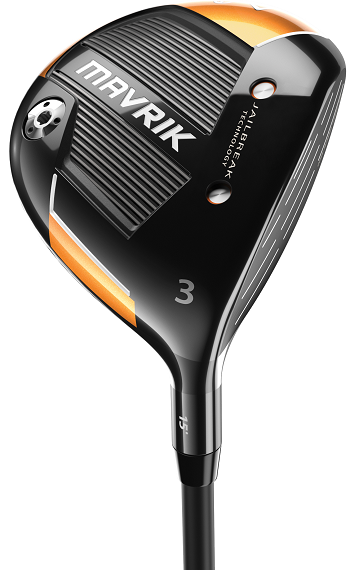 The new MAVRIK 22 fairway woods were designed with MAVRIK thinking in mind. Every club in the range is outfitted with Flash Face, Jailbreak, and Face Cup technology for maximum ball speed and distance. VFT architecture and face design have been updated. They optimize COR for high ball speeds while enhancing downrange consistency.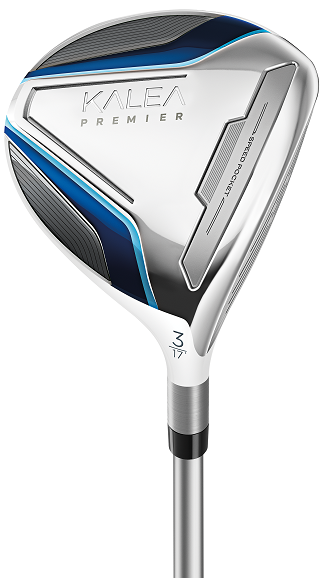 A sleek, self-assured head shape and low CG design built for high launch and increased carry distance. Each loft has the same head size, which promotes extra forgiveness and accuracy on every shot.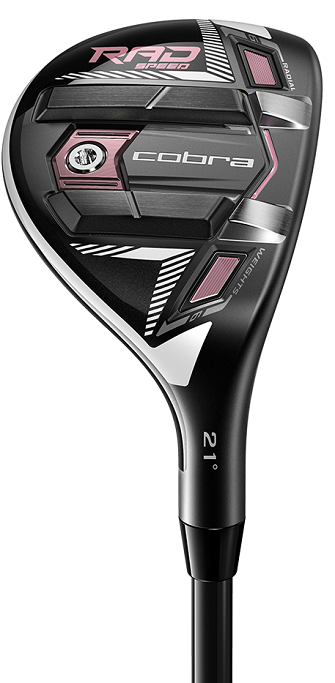 The RADSPEED Hybrid has internal RADIAL WEIGHTING that is slanted toward the front and an external back weight to provide low spin, high launch, and forgiveness. Weight placement relative to the CG that optimizes speed, forgiveness, and flight direction from the fairway or off the tee.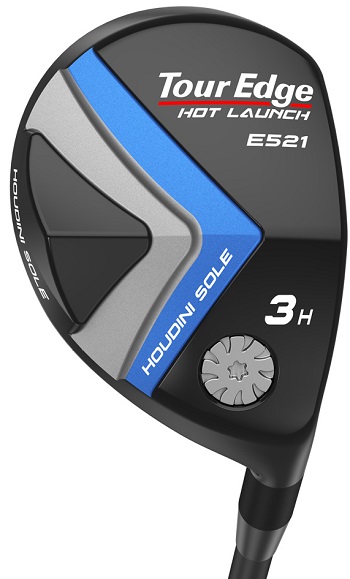 The Extreme Game Improvement advanced game-changing Houdini Sole is combined with a shallow face, a slice-fighting offset design, and heel weighting for additional draw bias, making this hybrid all about ease of usage. The 17-4 stainless-steel Hot Launch E521 Hybrids have a smaller and lighter forged steel crown, which boosts ball speed for maximum power generation.
Women's Irons, Wedges, & Putters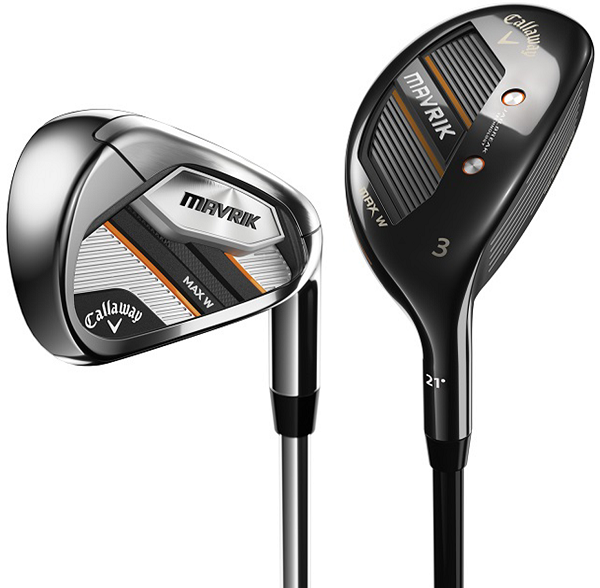 The MAVRIK MAX W 22 Irons are designed for increased distance and performance. This is a women's performance package with optimized weighting, shaft, and grip designs for maximum playability and distance. For long, consistent distances, these irons have extraordinarily high ball speeds from our Flash Face Cup technology. In addition, unique urethane microspheres improve the feel for all-around iron performance. Callaway concentrates on creating innovations that are perfectly suited to your game.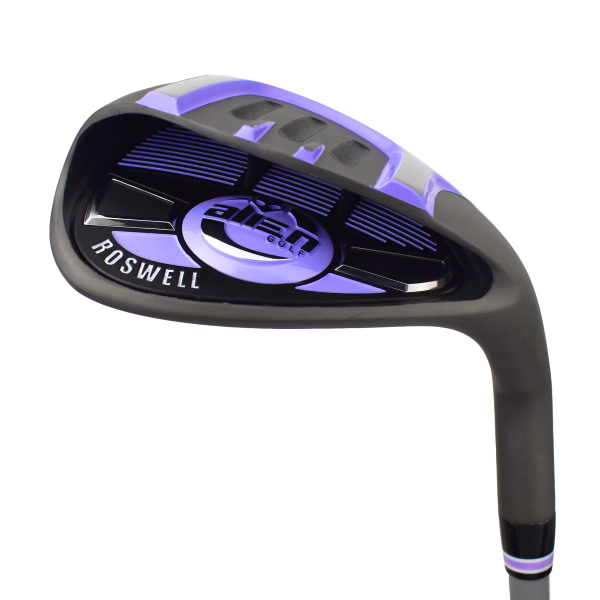 The Alien Roswell® Wedge took years to develop. Knowing that 65% of shots in a round of golf are played inside 120 yards of the hole necessitates using the proper wedge. The Alien wedge features a deep cavity and wide Gravity Rail sole design that allows the golf ball to get up high quickly and land softly with amazing spin and control.
The full-face CNC milled grooves and Laser engraved face combine to deliver the aggressive Spin needed for all shot types. From the feared bunker shot to the tight lying around the green and deep rough, the precisely designed Gravity Rail System Sole on the Alien wedge will allow you to conquer the most difficult lies the course throws at you. Simply align yourself square to your target and let the Alien Roswell® wedge do the rest. The Alien wedge also features a proprietary Space Gel™ vibration dampener supported by dual stabilizing bars that combine forces to deliver an amazing feel and forgiveness. With its unusual features, aesthetics, and performance, the Alien Roswell® wedge is out of this world!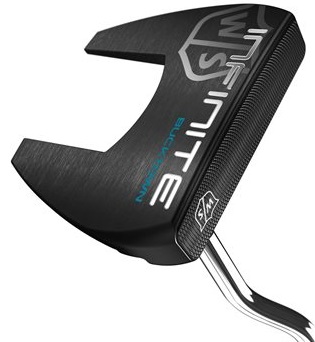 Wilson Staff's Infinite putter series features six traditional head shapes with improved details, each with counter-balanced technology for a more controlled putting stroke. Because the company's headquarters are in Chicago, each putter is named after a landmark or neighborhood in the city. The NEW range has a dark, matte coating that reduces glare and emphasizes sightlines.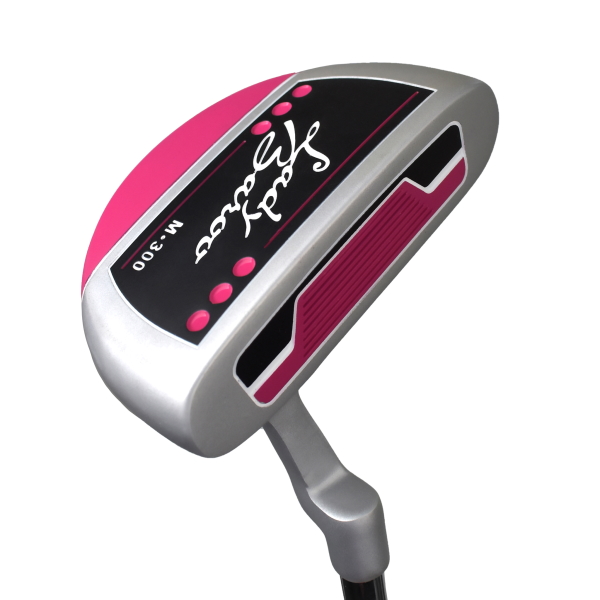 Billy Baroo's putter was immortalized in the classic film Caddyshack! The new 2023 Billy Baroo lineup is visually appealing and provides the technologies you require at an affordable price. The new Aluminum AL 6000 face insert is visually appealing. It has a vibration-dampening insert to deliver unrivaled sound, feel, and immediate over-spin of the ball toward the hole!
Pre-Owned And Used Golf Clubs For Women
Pre-Owned and Used clubs can be a game changer for any golfer, including women. It would help if you didn't have to pay full price to test out and find the perfect premium club for your game. That's where quality ladies used and pre-owned clubs come in. But don't purchase from just anyone. We have a dedicated team of pre-owned golf club experts at Rock Bottom Golf. They inspect every club that comes to our warehouse carefully and then categorize the clubs, so you know exactly what you are purchasing! Plus, many of our pre-owned clubs come with a 30-day playability guarantee! So you can buy with 100% confidence! 
Check Out The Pre-Owned And Used Club Categories Below For More Information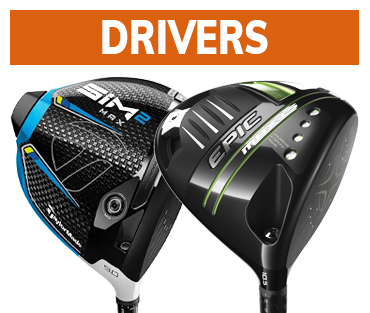 Final Thoughts
At Rock Bottom Golf, we always aim to give the best golfing equipment, research, and information to our customers!
Finding the right clubs for any golfer can be challenging, especially for women. However, considering your skill level, size, and type of clubs –– you'll be able to find the perfect set of clubs for yourself in no time. Rock Bottom Golf is here to help; our buyer's guide offers an extensive selection of golf clubs tailored to any skill level or style preference. Our top-notch customer service and unbeatable prices ensure you leave with the best-golfing equipment of 2023! 
Check out Rock Bottom Golf today to find the best golf equipment for you!
Get ready to hit the green in style with the best golfing gear!
Women's Golf Club FAQs
Why are women's golf shafts lighter?

Golf shafts are lighter in women's golf clubs, so golfers with a slower swing speed can hit the ball further.
Do women's golf clubs have the same lofts as men's clubs?

Women's golf clubs may be more lofted than other golf clubs, making the ball fly higher and increasing distance.
How can women golfers control the ball better?

Clubs built for women are shorter, and this is a good thing. Since women, on average, are shorter than men, a shorter club will fit their swing better. And a shorter club can mean more control over the club swing, which can generate straighter shots.
Are the grips on women's and men's golf clubs the same?

The size of the golf club's grip is essential. Since women have smaller hands than men on average, the grip's diameter should also be smaller. Your golf club grip size should fit your hands properly to achieve the correct grip with your hands on the club.
Should women golfers get their clubs fitted?

Yes! If your clubs are fitted specifically to you, your game can improve significantly. So club fitting is vital for any golfer, including women. Since women are generally shorter, getting a club fitting can be even more crucial to buying the correct clubs. Clubs may be costly, so why not take the uncertainty out of selecting the best club for your game?
Are women's golf clubs for every woman?

A female golfer may need to use men's clubs if they are above average height. Women's golf clubs are made for the average woman. But getting the right club for you and your game is essential, whether those clubs are made for women or men. 
While You're Still Here…
Drop us a note on your favorite women's golf clubs. Do you think they help? Or are they just marketing gimmicks? Tell us what you think in the comments! We would love to hear from you!
Also, don't forget to check out some of our other great golf articles here! Do you want to select the best golf balls for your game? We have you covered! Check out How To Select The Best Golf Balls In 2023! Are you looking for a more general golf club buying guide? We have you covered there too! Read the Golf Club Buyer's Guide: What You Need To Know!
More to come, so check back soon!