Ultimate Guide to Golf Gifts
Looking for the perfect golf-themed gift for that special golfer in your life? Not sure what to get given your budget? Impress your dad, spouse, coworker, or friend who can't miss a weekend on the links with this ultimate guide to golf gifts.
There are options for every budget, and we'll even give you tips on how to compare options if you're new to the sport.
---
Gifts Under $50
There are plenty of thoughtful golf-centered options for those looking to spend less.
Personalized Golf Balls
Avid golfers always need golf balls—they get lost or they go in the water (though your gift receiver might not admit it). This is a gift that you can get for any golfer without having to know specific preferences or sizes. It's gender-neutral and makes a great stocking stuffer during the holidays, too.
The #1 ball to get is the Titleist Pro V1
To make this gift more thoughtful, inscribe a custom message on the balls. Include up to 3 lines of text in one of five text color options.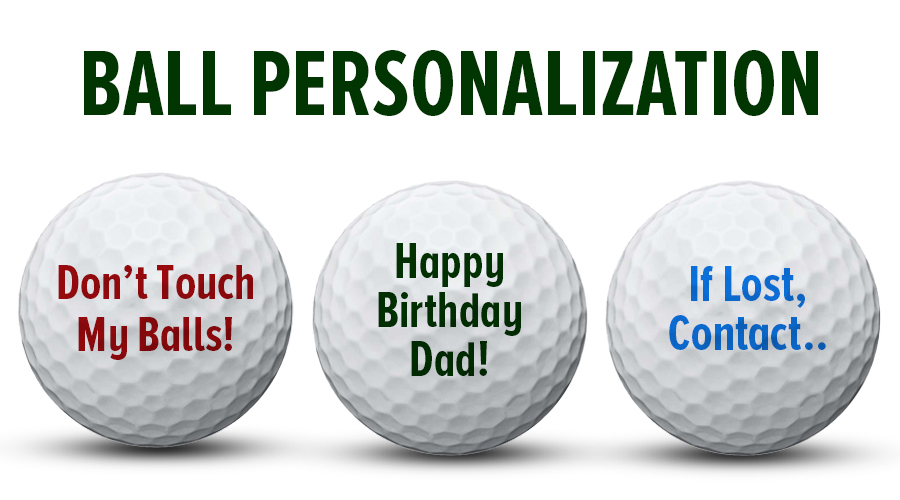 Shirts and Polos
A quality golf shirt is useful on and off the course. Casual golf polos are appropriate for many situations. When choosing a shirt, look for value. Rock Bottom Golf has discounted golf shirts from top brands, so your money can go farther.
Hats
It's hard to see down the fairway when the sun is in your eyes. Hats are an inexpensive option for all the golfers you're shopping for. Golf hats are specially designed for performance. Look for a moisture-wicking performance sweatband so the golfers can keep their eyes right on the ball.
---
Golf Gifts For Juniors
Start the next generation of golfers in your family off right. There are great gift options to help your junior golfer improve his or her game. Explore our selection of junior golf clubs, bags, apparel, gloves, golf shoes and more.
Clubs of All Sizes for All Ages
For a young golfer just getting started, get a complete set of clubs with a bag. It comes with the basics they need to play a round and get a feel for the game. If the junior golfer on your list is a littler more advanced, check out more specialized individual clubs. Just remember, one size does not fit all when it comes to clubs. For junior golfers of different ages and heights, this is especially true. Select from an assortment of different sized clubs to accommodate the younger golfers you're shopping for.
Juniors Golf Apparel and Equipment
Golf requires more than clubs. If you're looking for a gift for a young golfer, consider golf apparel options like golf shirts, pants and hats from top golf brands. Boost the confidence of the junior golfer on your list by helping them look like a pro.
Golf equipment makes a great gift for the more advanced young golfer. Check out juniors golf shoes or juniors golf gloves to help the youngster on your shopping list take their game to the next level.
---
For the Novice
If you're shopping for a golfer looking to get into the game, score one of these great gift ideas to help them get started.
Complete Sets
Complete golf club sets provide every golfer with what they need to get started in golf. Most sets include:
A driver
A fairway wood
A hybrid club
Several irons
A putter
Each complete set also generally comes with a golf bag. The durable bag straps make the clubs easy to carry for even the youngest of golfers. In many sets, the bag has a stand to keep it upright while on the course.
Golf Books and Training Aids
A little training goes a long way. Pick up a book or training DVDs to help that new golfer on your list. These bestsellers not only teach the basics of the sport but also aid in preventing an injury. The additional guides will prove to be grade-A course material.
---
Gifts that Go the (Social) Distance
We may be "social distancing" from each other, but that doesn't mean your golfer needs to "social distance" from the course. They can continue to enjoy the fresh air as they easily make their way around the course with a golf push cart. Push carts carry all their clubs around the course, saving the golfer's back and their energy, and making it so they won't need to ride next to anyone.
Want to make walking to the next hole even easier? Consider an electric cart. Propelled electronically, your golfer can get around the course effortlessly.
If you're looking for a gift for someone with a drive-around golf cart, consider getting some golf cart accessories. From heaters to speakers, you can find a gift in any price range that's sure to hit a hole-in-one.
---
For the Golfer on the Go
If your golfer lives outside the Sun Belt, they may be traveling to someplace warm in the winter to hit the links. With travel comes golf travel equipment. Golf bag travel covers protect their clubs when they are checked onto a flight.
Of course, the most popular golf brands like Callaway, Titleist, and TaylorMade offer other travel accessories like luggage, duffle bags, backpacks, and purses. These off-the-course gifts keep your loved one in a golf frame of mind, even when they're not on the course.
---
Competitive Golfers
If you know a golfer who's extra competitive, they are probably in the market for some top-of-the-line equipment. Perhaps they are looking for a high-end driver, hybrid, or putter. Maybe they are considering an upgrade to a special pair of golf shoes.
If only the best will do, the items can get pricey. If the golfer you're shopping for hasn't told you exactly what they want, a gift card might be the best route. That way you can give an amount that fits in your budget, and they can put it towards the item they have their heart set on.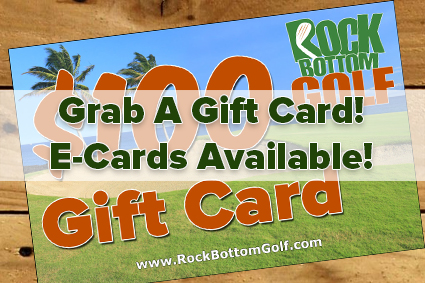 Many of us have a Dad who lives to golf. That makes the decision to get a golf gift for Father's Day pretty simple. The problem is what specifically do you buy. Do you get a new club? If so, what brand and what type? Stop guessing and let Dad pick out the perfect item from Rockbottomgolf.com. Purchase an electronic or traditional gift card and Dad can explore our huge selection of clubs, apparel, golf electronics, and more.
Purchase a gift card for Father's day!
Mother's Day is just around the corner. Get your mom decked out with her favorite ladies golf apparel, clubs, carts, bags, personalized golf balls, and more! Your dollar will stretch further with Rock Bottom Golf! Spend less and get more! And Never Forget:… "Golf As in Life, It is the Follow Through That Makes the Difference"


When you say the word "Valentine's Day" most think of chocolates, gift baskets, and stuffed animals. Did you know Rock Bottom Golf has a large assortment of golf gifts for him and her? Make this Valentine's Day meaningful and spend time out on the course with some new golf gear.

Click Here and start shopping for the hottest gifts in golf.
Holidays are a hectic time of the year for gift buyers. This year, it doesn't have to be. Rock Bottom Golf has a diverse assortment of holiday goodies for the golf connoisseur in your family. Ring in the holiday season with these par-fect Christmas golf gifts or stocking stuffers.


Click Here and start shopping for the hottest gifts in golf.
---