Enter to WIN a FREE Cobra Golf King F8 Driver!
Sorry, this giveaway has expired! Click here for details about our current contest!

Callin' all Rock Heads! This is your chance to put a top-of-the-line Driver in YOUR cave for absolutely FREE! We're giving away a Cobra Golf King F8 Driver! Here's the chance to become the envy of all your golfin' buddies! So don't delay – go enter my awesome Giveaway Contest for a FREE Cobra Golf King F8 Driver!
Enter to win via Facebook today! Don't delay – the contest ends at 11:59 pm EST on January 15th!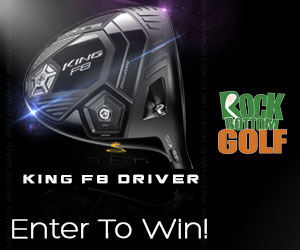 The sweepstakes runs from January 1st – January 15th at 11:59pm, so you can't procrastinate in entering to win this fabulous prize.
You must be 18+ years old to enter and win. As much as we appreciate you young pups taking an interest in golf, get your parents to enter if you're not quite reaching that age requirement.
All entries will be used and the drawing will be random.
All you have to do is enter your email address. No purchase necessary! If you are chosen as a winner, the email address you submitted will be used to contact you to obtain an address to send the prize.
Only people residin' in the United States can win.
Not on Facebook? That's ok! Go here to enter!
The sweepstakes only lasts 'til 11:59pm on January 15th, so enter quick for yer chance to win! Enter to win via Facebook today!
Now that that's out of the way, let's take a look at our fabulous prize!
FREE Cobra Golf King F8 Driver!
Features:

Not Just Another Driver
Golf is a game of advancement. And this year, we've advanced it to a level the industry has never seen. Giving players the technology to perform at their absolute best. To crush drives longer and straighter than ever. This is technology, not mythology. This is innovation, not imitation. This is all smoke and no mirrors. This is how we own the future of golf.
Precision Face Thickness. More Speed
Compared to hand-polished drivers, CNC machining yields more precise thicknesses resulting in a thinner and hotter face that increases ball speed and distance.
Optimized Trajectories With Dual Roll
Unlike traditional drivers designed with a constant roll radius, COBRA's innovative Dual Roll Technology utilizes different curvatures on the top and bottom of the face to optimize launch and spin for shots hit above or below face center.
360 Aero Technology
Innovative crown and sole aero trips optimize aerodynamic performance for faster clubhead speeds and increased distance. Distance is dependant on club speed. The addition of aero trips and a more streamlined shape is important to reduce drag in areas of the swing where speed is lost. The aero trips are strategically positioned relative to the orientation of the airflow, speed, and drag through the swing to increase clubhead speed for maximum distance.
Go to Rock Bottom Golf's website for more information on the FREE Cobra Golf King F8 Driver!
So don't delay Rock Heads, go Put Your Name In The Hat for a chance to win a FREE Cobra Golf King F8 Driver!
Not on Facebook? That's ok! Go Here To Enter To Win!