This Is Your Chance To Win A FREE Srixon Masters Staff Bag!

The Masters are almost here and I'm celebrating the best way I know how – by bringing you a brand new giveaway! I'm giving away a limited edition Srixon Masters Staff Bag! I'm giving you the chance to win one of your own and become the envy of all your golfin' buddies! So don't delay – go enter my awesome Giveaway Contest for a FREE Srixon Masters Staff Bag!
Enter to win via Facebook today! Don't delay – the contest ends at 11:59 pm EST on April 11th!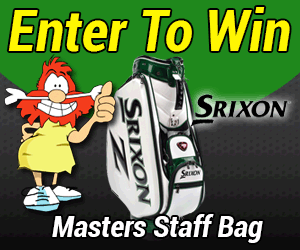 The sweepstakes runs from April 1st to April 11th at 11:59pm, so you can't procrastinate in entering to win these fabulous prizes.
You must be 18+ years old to enter and win. As much as we appreciate you young pups taking an interest in golf, get your parents to enter if you're not quite reaching that age requirement.
All entries will be used and drawing will be random.
All you have to do is enter your email address. No purchase necessary! If you are chosen as a winner, the email address you submitted will be used to contact you to obtain an address to send the prize.
A Facebook account is needed to enter.
Only people residin' in countries that we ship to can apply. International winners will get the value of the prize in caveman cash.
Not on Facebook? That's ok! Go here to enter!
The sweepstakes only lasts 'til 11:59pm April 11th, so enter quick for yer chance to win! Enter to win via Facebook today!

Not on Facebook? That's ok! Go Here To Enter To Win!