Jason Day Wins First Major In A Major Way!
Sniff's Weekly Roundup
I've collected the top news and trending topics in the golf world so you can catch up on what you need to know! I've included some of the top stories as well as some of the most interesting stories and links from all around the internet! Enjoy! -Sniff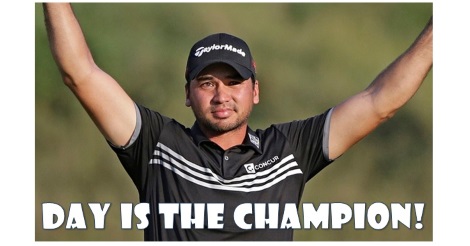 Here's What's Happened:
1. Jason Day earns first major championship in a major way. The Australian golfer has come close many times, finishing in the top 10 in nine of the 20 majors heading into this weekend. But Sunday, Jason Day emphatically won the PGA Championship at Whistling Straits with a 20-under on the weekend, defeating second place finisher, Jordan Spieth, by three shots. The 27-year-old became the first to win a major with that score — Tiger Woods had previously held the record with the 19-under he won the British Open with in 2000. Day celebrated his win as he hugged his caddy, his wife and his son with tears running down his face.
Ding dong the witch is dead. #PGAChampionship #winning pic.twitter.com/uwBFKRvWBn

— Jason Day (@JDayGolf) August 17, 2015
2. With second place finish at the PGA Championship, Jordan Spieth is now the top ranked golfer in the world. Although Spieth was three shots away from winning his third major this calendar year, his consolation prize pushes his world ranking all the way to number 1, dethroning Rory McIlroy — McIlroy finished 17th with a 9-under par. Spieth is now just the fourth golfer to finish in the top-5 in all four majors in a season.
2 inevitable things happened today, @JDayGolf winning a major and @JordanSpieth getting to 1 in the world! Congrats guys!! Inspiring stuff! — Rory Mcilroy (@McIlroyRory) August 16, 2015
3. Tiger Woods, amongst others, miss cut at PGA. It doesn't come as a surprise that Tiger didn't play through the weekend at Whistling Straits after the disappointing year he has had. He shot 4-over par, missing his fourth cut of the season. Others who missed the cut? US Open Champion, Zach Johnson, Adam Scott, WGC Champ, Shane Lowry, and a number of other big names.
4. Brian Gaffney became the first club professional to make the cut at the PGA Championship in four years. On Tuesday, he returns to work as the director of golf at A.W. Tillinghast's Quaker Ridge Golf Club in Scarsdale, New York.
Just finished with Michael Breed on http://t.co/nJtz9U6fbi. What an honor to be included. Practice does pay off! pic.twitter.com/jtd0tT3u0h

— Brian Gaffney (@BrianGaffneyPGA) August 13, 2015
Links I Love:
A man in Cupertino, California now holds the Guinness World Record for the most autographed golf balls — 200. Read the story from The San Jose Mercury News.


What to Watch For:

The Wyndham Championship begins Thursday from Sedgefield Country Club in Greensboro, North Carolina.