Don't Miss Your Chance To Win A FREE Solus Wedge Set!

My latest contest is startin' to wrap up, but you've still got time to enter for a chance to win BIG! This time I'm givin' away short game improvin' sticks! The Solus 420 CS 3-Wedge Set will set you up for success no matter the course! They deliver the distance consistency and stability that every golfer wants! So don't delay – go enter my awesome Giveaway Contest for FREE Solus 420 CS 3-Wedge Set!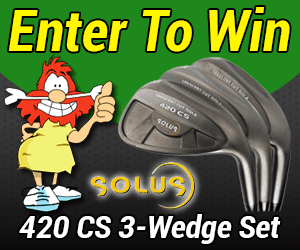 Enter to win via Facebook today! Don't delay – the contest ends at 11:59 pm EST on July 15th!
The sweepstakes runs from July 1st to July 15th at 11:59pm, so you can't procrastinate in entering to win these fabulous prizes.
You must be 18+ years old to enter and win. As much as we appreciate you young pups taking an interest in golf, get your parents to enter if you're not quite reaching that age requirement.
All entries will be used and drawing will be random.
All you have to do is enter your email address. No purchase necessary! If you are chosen as a winner, the email address you submitted will be used to contact you to obtain an address to send the prize.
A Facebook account is needed to enter.
Only people residin' in countries that we ship to can apply. International winners will get the value of the prize in caveman cash.
The sweepstakes only lasts 'til 11:59pm July 15th, so enter quick for yer chance to win! Enter to win via Facebook today!
Now that that's are out of the way, let's take a look at our fabulous prize!
FREE Solus 420 CS 3-Wedge Set!

The 420 CS wedge was designed for players that have just started golfing to intermediate range. The wedge features make it as easy as possible to hit straighter, more predictable shots. The perfect wedge to help get your game to the next level!
Features:
Crescent Cut Sole: Gives the Solus wedge more flexibility in shot selection by lowering the leading edge and giving extra bounce control
Optimal Center of Gravity: Solus wedges contain a higher, more "rearward" center of gravity allowing for a better distance consistency and stability
Pro Grind Heel: A camber has been added to the heel area of the crescent cut sole making it much easier to play the hard-to-hit, open face cut shots
Perimeter Weighting: Full perimeter weighting helps to control distance and direction on off-center shots, making for a more consistent short game
Go to Rock Bottom Golf for more information of the Solus 420 CS 3-Wedge Set!
So don't delay Rock Heads, go Put Your Name In The Hat for a chance to win a FREE Solus 420 CS 3-Wedge Set!