A Four-Man Playoff At The Greenbrier Classic!
Sniff's Weekly Roundup
I've collected the top news and trending topics in the golf world so you can catch up on what you need to know! I've included some of the top stories as well as some of the most interesting stories and links from all around the internet! Enjoy! -Sniff
Here's What's Happened: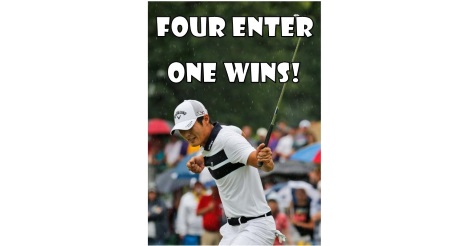 1. Danny Lee wins four-man playoff to earn first PGA Tour victory. Lee defeated Kevin Kisner, David Hearn, and Robert Streb who all finished at 13-under Sunday at The Greenbrier Classic. It took two playoff holes, but Lee outlasted the rest. Robert Streb had putter issues, but was given a replacement putter for the playoff rounds. Lee and Hearn made birdie putts on the first playoff hole, sending Kisner and Streb to the clubhouse. This was Kisner's third playoff loss this year on tour. Lee parred the final hole to win it all.
2. Tiger Woods finishes Sunday with a bogey-free round. He didn't end up in the top 25, but Woods left the Greenbrier Classic feeling encouraged about his performance. It was the first time he was bogey-free in 55 rounds.
3. Austrian Bernd Wiesberger rallies to win French Open. Being called the best round of his career, Wiesberger shot five birdies in six holes to secure a solid three-shot victory on Sunday. With the win, Wiesberger became the first Austrian golfer to win the French Open. He finished Sunday's round with eight straight pars and his sixth birdie of the day.
Delighted for student @BWiesberger winning the French Open in style. Hard work pays off buddy. Awesome win mate. 🏆🏆 pic.twitter.com/lLc07N3FCQ

— Damian Taylor (@golfdtaylor) July 5, 2015
4. US Golfers tweet support for the US Women's National soccer team. With their first World Cup Championship in 16 years, it's easy to get behind the women's soccer team's effort. Sunday evening, American golfers tweeted their support for the women after they beat the defending champions Japan by a score of 5-2. Even The Greenbrier Classic twitter account took some time to mention the ladies.
Congrats to @alexmorgan13 @hopesolo @CarliLloyd what a game! @AbbyWambach dream came true!! #USAGold

— bubba watson (@bubbawatson) July 6, 2015
Love watching history being made. There is nothing like it. Go USA!

— Tiger Woods (@TigerWoods) July 6, 2015
WOW!!! Our girls came to play tonight! Let's Go USA! ⚽️🇺🇸⚽️🇺🇸 Lovin it!

— Billy Horschel (@BillyHo_Golf) July 5, 2015
Let's Go Team USA! #WorldCup #USAvsJPN #OneMore #USA #GreenbrierClassicMediaCenter pic.twitter.com/1R0JGGTo2C

— TheGreenbrierClassic (@GbrClassic) July 5, 2015
Links I Love:
Oops, missed the ball there, Shaq. Watch as Shaquille O'Neal totally whiffs on a tee shot at the Greenbrier Classic Pro-Am.
Robert Streb was part of the four-man playoff at the Greenbrier Classic this weekend. This is after he broke his putter and was forced to putt with… a sand wedge. Check out For The Win's recap of all Streb's putts.


What to Watch For:

The John Deere Classic begins Thursday from TPC Deere Run in Silvas, Illinois.