Sniff's Weekly Roundup: Matt Every Repeats at Bay Hill
Sniff's Weekly Roundup
I've collected the top news and trending topics in the golf world so you can catch up on what you need to know! I've included some of the top stories as well as some of the most interesting stories and links from all around the internet! Enjoy! -Sniff
Here's What's Happened: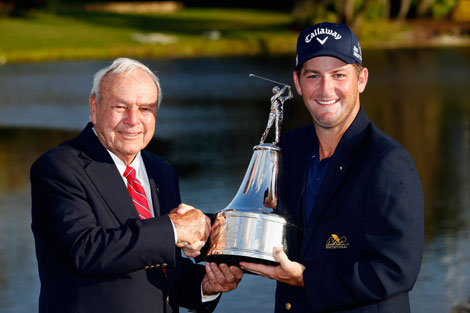 1. Matt Every wins the Arnold Palmer Invitational for the second year in a row. Every made an 18-foot birdie putt on the 18th hole to secure the win over Henrik Stenson and secure his spot at The Masters in just a few weeks. Last year's come-from-behind win was bested this year as Every headed into Sunday with a six shot deficit. His birdie putt would have forced a playoff, but Stenson missed wide left. Every is in good company joining Tiger Woods and Loren Roberts as the only others to repeat at Bay Hill. Every finished at 19-under 269 with all four of his rounds scoring in the 60s.
2. Hyo Joo Kim wins LPGA Tour's JTBC Founders Cup. The 19-year-old rookie finished the final eight holes Sunday with five birdies, outlasting Stacy Lewis for the win. South Korean golfers have dominated this season, winning all six LPGA Tour events in 2015. Top-ranked golfer, Lydia Ko (born in South Korea, but is from New Zealand) finished sixth at the tournament this weekend.
3. Daniel Berger and Zach Johnson both score mystical albatross. Both golfers holed their second shots on the par-5 16th hole at Bay Hill over the weekend. First Berger on Saturday – the first on the course in 35 years – while Johnson followed suit on Sunday. According to several sources, the odds of making an albatross, or double eagle, are somewhere in the ballpark of six million to one. Since 1970, there have been a recorded 121 double eagles on the PGA Tour.

4. Jimmy Walker leads FedEx Cup standings with 1,150 points. In second place, Bubba Watson with 1,088. Patrick Reed is in third with 1,076. Dustin Johnson and Robert Streb round out the top five with 910 points and 903 points respectively. You can see the full list of standings here.
5. An op-ed in the Wall Street Journal calls this golf season "melodramatic and leaderless." The author's argument? In the eleven events so far this calendar year, there have been no repeat winners. On top of that, he says that no one has "stepped up" and taken the place of legends like Tiger and Jack Nicklaus. Heck, even Rory is working on his game. He calls for a central hero, and hopes that The Masters next month will bring someone to the forefront. My opinion? It's early yet. Let's give it some time. What do you think?
Links I Love:
Golf lovers in Western Pennsylvania braved the harsh winter to throw the Frostbite Open. Photo gallery via ESPN.
Golf.com is asking you to vote for the best American Golfer. Vote here.
This photo gallery from Golf.com showcases the strangest trophies in golf. Some of them are just plain weird looking!
What to Watch For: