Don't Miss Your Chance To Win FREE Taylor Made SLDR Irons!

My newest contest of the month for my Facebook fans has JUST started, and this time I'm giving away something an amazing set of sticks! Worth $900, Taylor Made SLDR Irons will set you up for success no matter the course! They deliver the distance and forgiveness that every golfer wants! So don't delay – go enter my awesome Giveaway Contest for FREE Taylor Made SLDR Irons!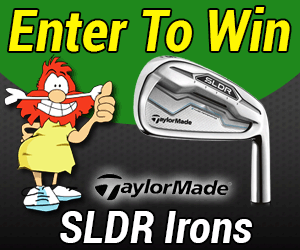 Enter to win via Facebook today! Don't delay – the contest ends at 11:59 pm EST on March 31st!
The sweepstakes runs from March 16th to March 31st at 11:59pm, so you can't procrastinate in entering to win these fabulous prizes.
You must be 18+ years old to enter and win. As much as we appreciate you young pups taking an interest in golf, get your parents to enter if you're not quite reaching that age requirement.
All entries will be used and drawing will be random.
All you have to do is enter your email address. No purchase necessary! If you are chosen as a winner, the email address you submitted will be used to contact you to obtain an address to send the prize.
A Facebook account is needed to enter.
Only people residin' in countries that we ship to can apply. International winners will get the value of the prize in caveman cash.
The sweepstakes only lasts 'til 11:59pm March 31st, so enter quick for yer chance to win! Enter to win via Facebook today!
Now that that's are out of the way, let's take a look at our fabulous prize!

TECHNOLOGY YOU CAN SEE.
PERFORMANCE YOU CAN FEEL.
TARGET:
All players who want the best of both worlds — a traditionally shaped and sized iron that also has modern performance technology that enhances distance, launch angle and forgiveness.
The SLDR iron is ideal for players who want the eye-appeal and responsiveness of a classically shaped iron with as well as modern performance technology that promotes higher and longer shots.
When we say classic looking we mean a simple, triangular shape, not too big, with a thin topline, thin sole and beautiful chrome finish. Many golfers find this look appealing, but don't feel like they have the skill for such an iron. The SLDR iron has changed that – its new, ThruSlot Speed Pocket helps you launch the ball with more speed and with a higher launch angle than you can with past player's iron. The high flight promotes a steep descent angle for quick stops on the green.
We've never made an iron like this that goes this far and feels so good. And it's all thanks to careful calibration of the Speed Pocket's design as well as the discreetly positioned badge on the back that absorbs unwanted vibration.
Any player who loves the look and performance of a classic player's iron, including those who've admired them from afar but convinced themselves they don't have the skill to put them in their bag, will love the new SLDR iron and its extraordinary of beauty and distance-enhancing performance.
Features:
New and improved Speed Pocket with ThruSlot Technology
ThruSlot Technology promotes fast speed and high launch across the face
Modern-classic blended shape, slim topline and thinner sole for superb look and playability
Complex vibration-dampening system delivers Tour-caliber sound and feel
Consistent gapping and precise distance control throughout the set
New KBS Tour C-Taper 90 designed to promote high launch, and spin control
Go to Rock Bottom Golf for more information of the Taylor Made SLDR Irons!
So don't delay Rock Heads, go Put Your Name In The Hat for a chance to win FREE Taylor Made SLDR Irons!