Sniff's Weekly Roundup: Rain Delays, Upset Caddies, & More!
Sniff's Weekly Roundup
I've collected the top news and trending topics in the golf world so you can catch up on what you need to know! I've included some of the top stories as well as some of the most interesting stories and links from all around the internet! Enjoy! -Sniff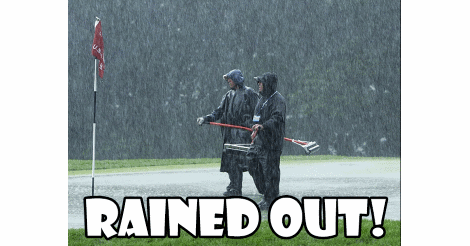 Here's What's Happened:
1. Weather delay forces Honda Classic to finish on Monday. Paul Casey and Ian Poulter were tied at 7-under going into the final day. Poulter had a strong three-shot lead early on, but several mistakes caused him to fall back and allowed Casey to close the gap. American, Patrick Reed started Monday at 6-under while Phil Mickelson was one of three players who finished Sunday at 4-under. The weather delay was caused by five inches of rain and wind gusts that were upward of 50mph. ESPN reported that there was so much water, the grounds crew had to chase off an alligator from one of the bunkers. In the end, it went down to a playoff, not between early leaders Poulter and Reed, but between Padraig Harrington and Daniel Berger. Golf Digest describes the playoff action saying, "Berger came back from nine strokes at the start of the round to finish at six under, while Harrington forced a playoff with a clutch birdie on the 18th after a double on the hole before. Paddy ultimately pulled through after another clutch shot on the second playoff set up an easy par and forced a mistake from Berger." Good start to the season for a good guy. You can find final scores at PGATour.com.
2. World No. 1, Lydia Ko, grabs title at second straight tournament. The native New Zealander earned her country's Women's Open Title Sunday by four strokes. This is her sixth LPGA Tour win at just 17 years old. On Saturday, Ko shot a 61 breaking the course record with ease.
3. Caddies are angry after being denied shelter during the storm at the Honda Classic. With a torrential downpour delaying play in Palm Beach Gardens, Florida, fans and players rushed to find shelter to wait out the rain. However, caddies do not have access to the clubhouse during PGA Tour events, so they were ushered off to a makeshift shelter. Several caddies took to social media to show their fancy digs. The "shelter" was made a metal roof and just three walls. Kenny Harms, who caddies for Kevin Na, was quoted as saying, "The PGA Tour should be embarrassed about what happened this weekend. It's not the first time that caddies have been left outside in a metal tent during an electrical storm, and it shows a disregard for the lives of the caddies on Tour."
Follow up view to our 'safe' quarters at @TheHondaClassic pic.twitter.com/kN4RR3YZDb

— Catman (@OzCatman) February 28, 2015
@thescottvail ha ha what a joke pic.twitter.com/9wVXlXjJl4

— Terry Mundy (@terrymundy) February 28, 2015
4. Rory misses cut at Honda Classic. You can blame it on the weather or say it's because he hasn't played a PGA event in five months, but Rory made just one birdie and headed home after just two days. He shot a 4-over 74.
Links I Love:
To see just how strong the wind and rain were on Sunday at the Honda Classic, check out this video of the scoreboard being knocked into the water!
Check out the LeBronold Palmer sneaker recently released by Nike.
Get ready for Spring Break with the new "LeBronold Palmer" Nike LeBron 12 Low: http://t.co/VgLuVn081E pic.twitter.com/D5FkJdBBVL

— SoleCollector.com (@SoleCollector) February 25, 2015
What to Watch For: