Rory To Leave Titleist; Nike Deal Likely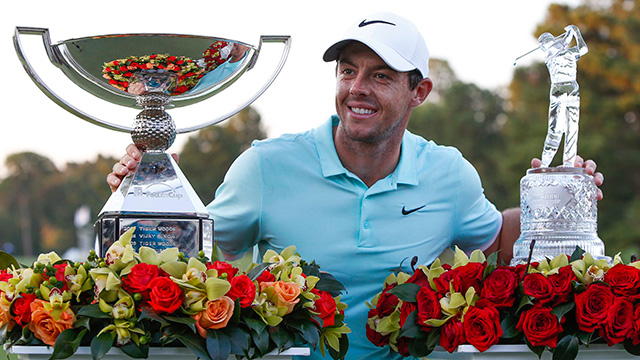 Rory McIlroy and Acushnet Co., which manufactures the Titleist and Footjoy brands and has outfitted Rory since 2007, announced on Tuesday that Rory's endorsement deal will not be extended after this year. This makes Rory officially a free agent; it looks increasingly more likely that he will sign with Nike in deal estimated at $10 million a year.
This will give the two biggest names in golf, McIlroy and Tiger Woods, who has been with the brand since he turned pro in 1996. It will be interesting to watch them use the same equipment in future matchups.
Wally Uihlein, Acushnet's chief executive, released a statement saying, "Our goal has been to provide Rory with the best equipment and service that would help him be the best player he could possibly be. He has been a great ambassador for the Titleist and FootJoy brands, and in turn, we are proud of how our equipment has contributed to his success. We wish Rory all the best, both personally and professionally, going forward."
McIlroy thanked Acushnet for, "five very exciting and successful years. I will always appreciate the contribution Titleist has made in helping me become the player I am today."
So the big question is: How will this affect Rory's game?
Nick Faldo called Rory McIlroy's departure from Titleist a "dangerous" move.
"I've changed clubs and changed equipment, and every manufacturer will say, 'We can copy your clubs, we can tweak the golf ball so it fits you.' But there's feel and sound as well, and there's confidence. You can't put a real value on that. It's priceless."
It should be noted, however, that Faldo has an endorsement deal with Taylor Made currently and it is believed that Taylor Made lost a possible deal with McIlroy in a bidding war with Nike.
Past examples of club switching are mixed. Oft' cited Payne Stewart fell from sixth on the money list in 1993 to 123rd in 1994 after switching from Wilson to Spalding. However, as Golf Digest noted, "Tiger Woods went from Mizuno irons as an amateur, to Titleist irons early in his professional career, and to Nike irons in late 2004 with no discernible effect."
So, what do you Rockheads think about McIlroy's move? As always let me know in the comments! And check out Rock Bottom Golf's Nike and Titleist gear for yourself!