Enter to WIN a FREE TaylorMade M3 or M4 Driver, M3 or M4 Rescue, OR 3 Dozen TP5 Golf Balls!

Callin' all Rock Heads! This is your chance to put a top-of-the-line Driver, Rescue, OR Golf Balls in YOUR cave for absolutely FREE! We're giving away a FREE TaylorMade M3 or M4 Driver, M3 or M4 Rescue, AND 3 Dozen TP5 Golf Balls! Here's the chance to become the envy of all your golfin' buddies! So don't delay – go enter my awesome Giveaway Contest for a FREE TaylorMade M3 or M4 Driver, M3 or M4 Rescue, OR 3 Dozen TP5 Golf Balls!
Enter to win via Facebook today! Don't delay – the contest ends at 11:59 pm EST on February 28th!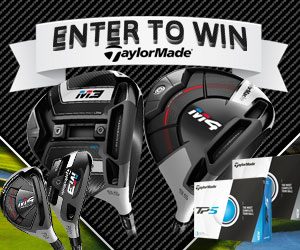 The sweepstakes runs from July 1st – July 31st at 11:59pm, so you can't procrastinate in entering to win one of these fabulous prizes.
You must be 18+ years old to enter and win. As much as we appreciate you young pups taking an interest in golf, get your parents to enter if you're not quite reaching that age requirement.
All entries will be used and the drawing will be random.
All you have to do is enter your email address. No purchase necessary! If you are chosen as a winner, the email address you submitted will be used to contact you to obtain an address to send the prize.
Only people residin' in the United States can win.
Not on Facebook? That's ok! Go here to enter!
The sweepstakes only lasts until 11:59pm on July 31st, so enter quickly for your chance to win! Enter to win via Facebook today!
Now that that's out of the way, let's take a look at our fabulous prizes!
FREE TaylorMade M3 or M4 Driver, M3 or M4 Rescue, OR 3 Dozen TP5 Golf Balls!
Driver Features:
A radical departure from traditional driver-face design, Twist Face is engineered to take you farther and straighter… right down the center of the fairway.
Twist Face presents a revolutionary new face curvature with a corrective face angle on off-center hits, engineered to reduce side spin and deliver straighter shots. By providing more loft in the high-toe and less loft in the low-heel, this groundbreaking technology produces more consistent sidespin in the areas where golfers commonly mis-hit.
TaylorMade's new Hammerhead slot creates a massive sweet spot that pushes the limit of ball speed to produce distance and forgiveness across the entire face.
The reinforced outer portions of the slot allow for a lighter, more flexible face, while the center portion of the slot increases ball speed on low-face strikes and drops spin for more distance. The result is a powerful and forgiving driver that delivers exceptional sound and feel.
M3:
The M3 driver features a new Y-Track, which offers two seamlessly movable weights, allowing golfers to adjust their settings for optimal trajectory, maximum forgiveness, or raw speed.
Simple and intuitive, the Y-Track delivers a completely connected track system for the first time, giving golfers unrestricted movement of 22g of mass (two 11g weights).
M4:
Taking an imaginative approach to clubhead design, the Geocoustic technology utilizes advanced sole shaping techniques to deliver a solid and explosive sound with exceptional feel. The recessed sole contour also frees up the volume to produce a larger clubface with a 67% larger sweet spot.
Rescue Features:
When a hybrid club is in your hands, it's time to pull off the incredible. The 2018 M3 Rescue combines TaylorMade technologies and Tour-inspired shaping, so you can execute under pressure and enter the clubhouse with a story.
M3:
M3 Rescue features an easily adjustable sliding weight and Loft Sleeve. Using the TaylorMade wrench tool, golfers can quickly personalize the settings to achieve their preferred ball flight.
New Speed Pocket provides more flexibility and more ball speed on low-face strikes.
The M3 Rescue features the M Family's signature two-tone crown cosmetic to encourage proper alignment and inspire a confident strike.
M4:
M4 Rescue has been designed with split internal weights that increase forgiveness and promote more ball speed across the face—helping golfers find the center cut with greater consistency.
Speed Pocket technology preserves ball speed on low-face shots, providing added forgiveness and consistent distance.
Geocousit technology enhances the playability and feel of the M4 Rescue, delivering exceptional shotmaking ability from any lie.
TP5 Golf Balls Features:
Tri-Fast Core: Progressive compression for maximum energy transfer
Dual-Spin Cover: Multi-layer spin performance with soft cast urethane cover
322 seamless dimple pattern
5-layer ultra-soft core construction
Softer feel with long distance on all shots
83 Compression
Go to Rock Bottom Golf's website for more information on the FREE TaylorMade M3 or M4 Driver, M3 or M4 Rescue, OR 3 Dozen TP5 Golf Balls!
So don't delay Rock Heads, go Put Your Name In The Hat for a chance to win a FREE TaylorMade M3 or M4 Driver, M3 or M4 Rescue, OR 3 Dozen TP5 Golf Balls!
Not on Facebook? That's ok! Go Here To Enter To Win!