Spieth Starts 2016 Off With A Record-Setting Win
Sniff's Weekly Roundup
I've collected the top news and trending topics in the golf world so you can catch up on what you need to know! I've included some of the top stories as well as some of the most interesting stories and links from all around the internet! Enjoy! -Sniff
Here's What's Happened: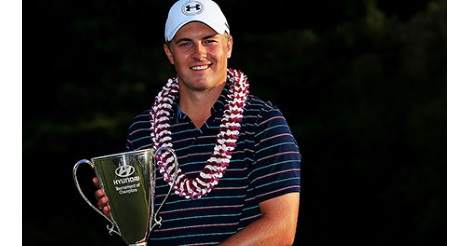 1. Jordan Spieth starts off 2016 with a record-setting win. At the Hyundai Tournament of Champions in Kapalua, Hawaii, Spieth rolled to an 8 stroke victory and finished 30-under 262. With his win, he tied Ernie Els as the only golfer in history to finish a 72-hole event with a 30-under or better. This was Spieth's 7th Tour win, tying Tiger Woods as the only player to record as many wins by the age of 22. On the European Tour, Brandon Stone earned his first victory at The BMW SA Open with a final score of 14-under.
2. A coveted Augusta National Green Jacket was found in a Houston non-profit store. Last month, The Guild Shop in Houston, Texas received a box full of donations. At the bottom of the box was none other than a Green Jacket from the 1960s. The shop was able to authenticate the jacket and sold it online to a bidder in Pennsylvania. The shop could not release the information from either the donor or the person who ended up with the jacket.
3. Luke Donald admits he nearly quit the game of golf. In an interview with The Telegraph, the former number one golfer in the world admits that after a three year win-less streak, he contemplated leaving the game. Last May, he fell out of the top 50 in the world and after a bit of thought, he sought out a sports psychologist. He says he realized just how lucky he was to continue to play golf for a living. Donald will seek to enter his 12th consecutive Masters Tournament in April. He will either need a win on the PGA Tour or a return to the top 50 in world rankings to do so.
4. The World Cup of Golf will be played at Kingston Heath in November. The 58th World Cup of Golf will be played down under in Melbourne, Victoria, Australia. Kingston Heath has hosted a variety of prestigious events in both men's and women's golf tournaments. The tournament format will return to team play – two-man teams from 28 countries.
Links I Love: