Rory Wins Big At The Wells Fargo Championship, Setting A Tournament Record
Sniff's Weekly Roundup
I've collected the top news and trending topics in the golf world so you can catch up on what you need to know! I've included some of the top stories as well as some of the most interesting stories and links from all around the internet! Enjoy! -Sniff
Here's What's Happened: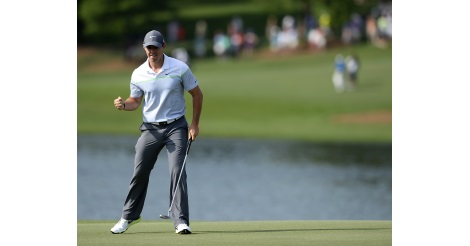 1. Rory McIlroy sets a tournament record victory at The Wells Fargo Championship. Finishing Sunday at 21-under par, McIlroy not only defeated the second place finisher, Patrick Rodgers, by seven strokes, but he now holds the tournament record — besting Anthony Kim's 16-under finish in 2008. Just days before his big win, tournament officials were unsure if McIlroy was even going to play this weekend having participated in five straight weekends of golf in three different countries. This is Rory's second time winning the tournament– his first coming in 2010 — and his second PGA Tour victory this year.
2. John Daly will have his life chronicled on ESPN's 30 for 30. Earlier this week Daly tweeted that his life and golf career will become a storyline for the popular documentary series. This will be the first time a 30 for 30 will have a professional golfer as the subject and there will certainly be a lot of stories to tell. No word on the air date just yet.
Excited to be selected as the 1st Pro-Golfer to share my life on @espn @30for30 it's an honor to be considered in that class of athletes

— John Daly (@PGA_JohnDaly) May 14, 2015
3. James Morrison wins at Spanish Open while Minjee Lee earns her first LPGA Tour win. Morrison shared the lead overnight Saturday with countryman David Howell. The Englishman was able to pull ahead with an early birdie and made eight straight pars to seal the victory. This is Morrison's second European Tour victory. Meanwhile Lee won by two shots, even after a first round triple bogey, to claim the Tour Kingsmill Championship.
4. Roland Thatcher almost shot a 59 at the BMW Charity Pro-Am. Heading into the final hole, Thatcher needed a birdie to score under a 60, but his putt did everything besides drop into the hole. "Honestly, I didn't think you could leave it short," he told the Golf Channel after tapping it in for par. Thatcher still won the tournament by one stroke.

Links I Love:
Miguel Angel Jimenez was offered 288 bottles of beer to make a hole in one… and he did.