Sniff's Weekly Roundup: DJ, Doral, Donald, & The Scuba Diver
Sniff's Weekly Roundup
I've collected the top news and trending topics in the golf world so you can catch up on what you need to know! I've included some of the top stories as well as some of the most interesting stories and links from all around the internet! Enjoy! -Sniff
Here's What's Happened: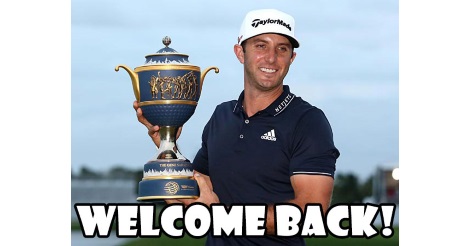 1. Dustin Johnson brings home first victory since taking a break from golf. After making up a five-shot deficit on second-place-finisher J.B. Holmes, Johnson had a one-stroke lead as he teed off at the 18th hole. Johnson finished at 9-under at the World Golf Championships-Cadillac Championship this past weekend celebrating with his seven week old son, Tatum and fiancee, Paulina Gretzky. This is Johnson's ninth career win and second World Golf Championship title. He is now the no. 7 ranked golfer in the world and heads into The Masters as a top contender.
What an incredible week @CadillacChamp! Happy to have Paulina and our son Tatum here to celebrate this win! #thankful @PaulinaGretzky

— Dustin Johnson (@DJohnsonPGA) March 9, 2015
2. Rory McIlroy throws his golf club into the water hazard after a frustrating shot during the second round. Donald Trump, the very visible owner of Trump National Doral Country Club, sent a scuba diver in after the 3-iron and returned it to the golfer on Sunday. "It's unlucky having 13 clubs," Trump said when asked about the gesture. Although, having 13 clubs may be luckier than the iron itself because as soon as Rory got it back, he hit a ball into the water with it. Trump said he wants to mount the club or perhaps auction it off for charity. McIlroy finished ninth at the World Golf Championships-Cadillac Championship this weekend. With his next tournament not until March 19, Rory and his dad are heading to Augusta to play a practice round this weekend admitting his "game's just not quite there."
Video: @RealDonaldTrump returns @McIlroyRory's 3-iron after it was retrieved from a pond. #QuickHits https://t.co/yhhSbycdce — PGA TOUR (@PGATOUR) March 8, 2015
3. Harrison Ford survives plane crash after landing on a golf course. The 72-year old actor was flying a World War II era aircraft last week after reporting engine trouble shortly after taking off. The plane landed on Penmar Golf Course outside of Los Angeles. Ford is resting at home with non-life threatening injuries.
4. Inbee Park wins 13th career LPGA title. Park started and ended the day with a two-stroke lead to beat out teenage phenom and world no. 1, Lydia Ko at Sentosa Golf Club in Singapore. Just last month, Ko took the top spot from Park, but Park played flawlessly this past weekend to keep the rankings close. She finished 72 holes without making a single bogey.
Links I Love:
What to Watch For: