Is A 59 On A Par 70 Still A 59?
Stuart Appleby Shot a 59 this weekend to clench his victory at the Greenbrier Classic. Ok, So his 59 came on a par 70. But he is still only the 5th PGA Player to have ever recorded a 59. He is also the first to shoot a 59 on a par 70.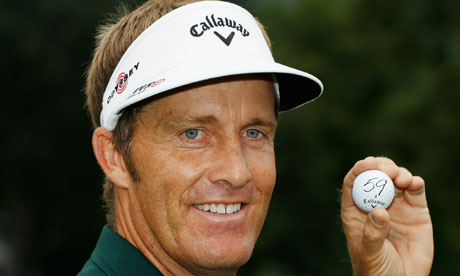 Paul Goydos shot a 59 on a par 71 just a month ago at the John Deere Classic.
The other three were recorded on par 72's:
Al Geiberger at the 1977 Memphis Classic
Chip Beck at the 1991 Las Vegas Invitational
David Duval at the 1999 Bob Hope Classic
These last two sub 60 rounds came more than a decade after the last one was recorded, and in the same year as the new USGA Groove Rules were put into place. Are the groove rules effective? Or are they forcing the golfers to aim better, resulting in lower scores?
This 59 also came just a week after 17 yr old, Bobby Wyatt shot a record shattering 57 at the Alabama Boys Championship, winning him the title for the 3rd straight year. He will certainly be giving Tiger Woods and the rest of the PGA Tour a run for their money in a few years!
In other golfin' news this weekend, Bernhard Langer captured the US Senior Open in Washington, just a week after his victory at the Senior British Open at Carnoustie. He didn't let the jet lag from the 8 time zone difference wear him down!
Congrats to Stuart Appleby and Bernhard Langer for their wins this week!
~Scratch