Anchoring Ban Takes Effect In The New Year
Sniff's Weekly Roundup
I've collected the top news and trending topics in the golf world so you can catch up on what you need to know! I've included some of the top stories as well as some of the most interesting stories and links from all around the internet! Enjoy! -Sniff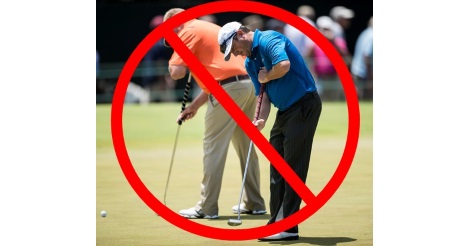 Here's What's Happened:
1. Anchoring ban takes effect as of January 1. It's been a controversial topic for quite some time, but as of January 1, golfers can no longer anchor putters on the golf course. Don't know what anchoring is? It is the act of using your hands as an anchor on the golf club. The ban is not limited to putting.All anchored golfing is no longer allowed. The USGA is not banning any equipment, however. You can still use long putters, as long as your hands are away from your body. For your entertainment, great moments in anchored putting.
2. Several big names will miss the 2016 opener. Rory McIlroy, Justin Rose, Jim Furyk and Shane Lowry will not be playing on Thursday in Hawaii at The Hyundai Tournament of Champions. All four players are eligible to compete but have opted out of the tournament. Patrick Reed, the defending champion, will be playing. A programming note: the tournament was played from Friday through Monday for four years in order to line up with the college football title game, but this year will be played Thursday through Sunday.
We're almost there. Less than a week until @HyundaiTOC. The First Look: https://t.co/G3XlN9JVhx pic.twitter.com/BBB4FfLqBQ

— PGA TOUR (@PGATOUR) January 2, 2016
3. Happy 40th, Tiger! Tiger Woods celebrated his 40th birthday on December 30. He went to dinner at his restaurant, The Woods Jupiter and attended a Darius Rucker show.
Thanks everyone for the wonderful birthday wishes. 40 is cool. — Tiger Woods (@TigerWoods) December 31, 2015
Links I Love:
What to Watch For: