This Is Your Chance To Win A FREE BRAND NEW Taylor Made M1 Driver!

Callin' all Rock Heads! This is your chance to score amazing distance and performance for absolutely FREE! I'm giving away one FREE Taylor Made M1 Driver! This boomstick is valued at over $500 and is so new it hasn't even been released yet! But Scratch here is giving you the chance to win one of your own and become the envy of all your golfin' buddies! So don't delay – go enter my awesome Giveaway Contest for a FREE Taylor Made M1 Driver!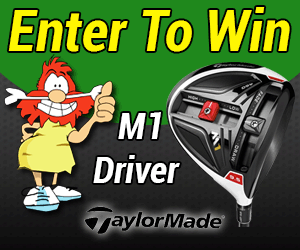 Enter to win via Facebook today! Don't delay – the contest ends at 11:59 pm EST on October 15th!
The sweepstakes runs from October 1st to October 15th at 11:59pm, so you can't procrastinate in entering to win these fabulous prizes.
You must be 18+ years old to enter and win. As much as we appreciate you young pups taking an interest in golf, get your parents to enter if you're not quite reaching that age requirement.
All entries will be used and drawing will be random.
The winner has the option of a RH or LH club
All you have to do is enter your email address. No purchase necessary! If you are chosen as a winner, the email address you submitted will be used to contact you to obtain an address to send the prize.
A Facebook account is needed to enter.
Only people residin' in countries that we ship to can apply. International winners will get the value of the prize in caveman cash.
The sweepstakes only lasts 'til 11:59pm October 15th, so enter quick for yer chance to win! Enter to win via Facebook today!
Now that that's are out of the way, let's take a look at our fabulous prize!
PERFORMANCE FOR EVERY SWING
Our longest driver, the M1 has a multi-material construction – featuring an ultra-thin, ultra-light and high-strength carbon composite crown – that unlocks breakthroughs in distance, playability, and feel for all golfers.
Each golfer has a unique swing and in the past it's been challenging to provide ideal launch conditions to all player types with a single club. The construction of M1 allows better players to create the shot they want and other golfers, the shot they need.
Personal Fit System
Three-step head adjustment system of loft sleeve, Front Track & Back Track – plus three featured stock shaft offerings – M1 gives golfers a tour-level fitting without the truck.
Loft Sleeve: – A 4° (+/- 2°), 12-position, sleeve for the golfers preference of face angle, loft and lie. Available Lofts: 8.5º, 9.5º, 10.5 º, 12º
The M1 Driver comes with 3 after-market stock shafts, designed for multiple swing types:
High Launch (Fujikura Pro 60)
Mid Launch (Mitsubishi KuraKage Tini Silver 60)
Low Launch (Aldila Rogue Silver 70)
Multi-Material Construction
M stands for Multi-Material and it's the key that unlocks performance in M1. This construction is highlighted by our proprietary 7-layer Carbon Composite Crown that is precision-formed and built ultra-thin, ultra-lite and high strength to maximize weight savings. This addition has allowed us to build a weight-loaded sole and move overall club head weight (and, thus, the center-of-gravity) lower for a more efficient power transfer; giving golfers more ball speed. The Carbon Composite Crown as also allowed us to give golfers 25 grams of multi-directional adjustability, allowing them to personalize launch conditions – fit to their swing – and optimize ball-flight, trajectory and, ultimately, distance.
T-Track System
To make our longest, just that for a wide range of golfers, we needed to expand the settings to give golfers more options to personalize performance to fit their game. M1 features the revolutionary T-Track System that consists of both a Front and back track with 25 grams of adjustable weight:
Front Track: One – 15 gram weights to provide multiple draw, neutral and fade settings
Back Track: One – 10 gram weight adjusts for multiple high, medium and low launch and spin settings
The revolutionary T-Track System gives golfers the option to personalize their M1 to their exact specifications, leading to optimal performance and distance to fit their swing.
Go to Rock Bottom Golf for more information of the Taylor Made M1 Driver!
So don't delay Rock Heads, go Put Your Name In The Hat for a chance to win a FREE Taylor Made M1 Driver From Rock Bottom Golf!