Rory Says Ankle Is A Non-Issue For Next Week's PGA Championship
Sniff's Weekly Roundup
I've collected the top news and trending topics in the golf world so you can catch up on what you need to know! I've included some of the top stories as well as some of the most interesting stories and links from all around the internet! Enjoy! -Sniff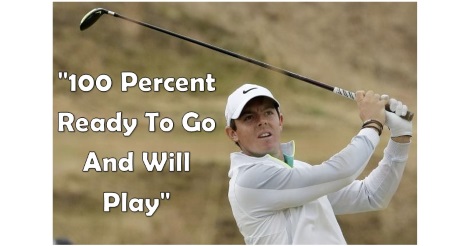 Here's What's Happened:
1. Irishman Shane Lowry gets first PGA Tour victory at WGC-Bridgestone Invitational. Best known for his win at the 2009 Irish Open as an amateur, Lowry defeated a slew of big names to finish at the top of the leaderboard Sunday at 11-under. Lowry's day was bogey-free in the come from behind win. With the win, Lowry is projected to now be ranked in the top 20 in the World Golf Rankings. Bubba Watson finished in second at 9-under, with Justin Rose and Jim Furyk tying for third at 7-under. Jordan Spieth and Rickie Fowler finished at 4-under.
Wow! Can't put into words how I'm feeling now. Thanks to everyone for their support. #winnerwinner

— Shane Lowry (@ShaneLowryGolf) August 9, 2015
2. Rory McIlory declares his ankle a non-issue. As next week's PGA Championship at Whistling Straits approaches, world number one McIlroy was out on the links practicing his swing for the final major of the year. McIlroy ruptured a ligament in his ankle on July 4th as he was playing with a soccer ball with friends. He hasn't played since finishing fourth in the US Open, but tells the media that he is feeling good and is ready to play. McIlroy's Instagram account is full of encouraging photos of him balancing on his ankle. At the same time, Rory also posted this pretty nasty picture of his swollen ankle:
3. Remember the bunker that cost Dustin Johnson the PGA Championship at Whistling Springs in 2010? No worries, it is covered up by the viewing area this year. Here's the scene in 2010: Dustin Johnson has a one-shot lead in the final round. He grounded his iron in the sand then hit the shot to the 18th green. Not knowing otherwise, he was penalized two shots thus costing him a spot in the playoff. PGA of America reportedly confirmed in an email that the spot in the bunker was covered. Johnson has yet to win a major.
4. J.J. Henry wins second Barracuda Championship in four years. Henry outlasted Kyle Reifers in a two-hole playoff after making a 15-foot putt for eagle. The win boosts Henry from 150 to 76th in the world rankings and gives him a ticket into the PGA Championship next weekend.
Links I Love:
Under Armour has filed for three trademarks for a Jordan Spieth logo, including the one below that Golf.com tweeted out. The deal would reportedly go through 2025.


Jordan Spieth's new logo: Cool or lame? http://t.co/yY7Nx5gqac pic.twitter.com/6Jit08IFxo

— GOLF.com (@golf_com) August 9, 2015

An article from USA Today says that fan experience has improved at live golf events due to social media. Read more here.


What to Watch For:

The PGA Championship begins Thursday from Whistling Straits in Sheboygan, Wisconsin.