Spieth, Dunne Are Top Stories At The Open
Sniff's Weekly Roundup
I've collected the top news and trending topics in the golf world so you can catch up on what you need to know! I've included some of the top stories as well as some of the most interesting stories and links from all around the internet! Enjoy! -Sniff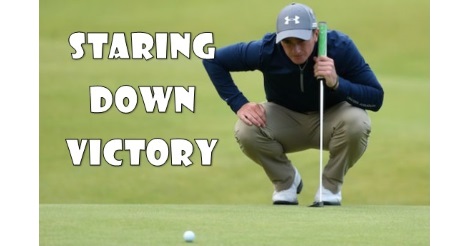 Here's What's Happened:
1. Weather disasters at British Open force a Monday finish for the second time in tournament history. Heavy winds and rain storms plagued St. Andrews Friday and Saturday. Play was suspended three hours on Friday while rain flooded the course and eventually needed to be drained to resume play. However, the rain lasted so long, 42 players – including then leader Dustin Johnson – were forced to finished their second round Saturday morning at 7am. Weather Saturday wasn't much better – winds gusts forced play to be pushed back to late in the day. The second round was finally finished Saturday evening. Sunday held the third round. Barring any natural disasters, The Open will finish up on Monday.
2. Jordan Spieth is one stroke behind at The Open. After a bogey on the par-4 ninth hole on Sunday, a fire was lit under the reigning Masters and US Open Champion. He finished the round with four birdies. Spieth is looking to become just the second golfer to win all three – Masters, US Open and British Open – in the same year, and with the PGA Championship next month, a win would set him up to be the only golfer to win all four events. Spieth will have to beat out ametuer Paul Dunne, Louis Oosthuizen and Jason Day who are currently tied for the lead.
Just one shot off the lead going into the final round. Can Jordan make it three in a row? #TheOpen pic.twitter.com/OhlbR0ZJgQ

— The Open (@TheOpen) July 20, 2015
3. A 22-year old amateur is making a name for himself at The British Open. You may have never heard of Paul Dunne prior to this weekend, but the Ireland native who just finished school at University of Alabama-Birmingham took the outright at the tenth hole on Sunday and continues to lead into the final round Monday. Only three amateurs have won the British Open, and not since 1930 has it happened. Also, if an amateur wins, he is not eligible to win the prize money. It will be split up between the pros who made the cut.
Paul Dunne is the first amateur to lead #TheOpen after 54 holes since 1927 http://t.co/g3vY2VWIpQ pic.twitter.com/DIKjaqlu7C

— Bleacher Report (@BleacherReport) July 19, 2015
Links I Love:
Justin Timberlake and Alfonso Ribeiro were two of the celebrities who gathered to play golf at the American Century Championship in Lake Tahoe this weekend. Ribeiro decided to dance the Carlton after a crappy tee-shot, and JT joined right in.
Paul Dunne, the current leader at The British Open, didn't even have a Wikipedia page before this weekend. But with his success this weekend, he went from a "nobody" to a "golfing machine created to rule the golfing world." At least that's what his newly created Wikipedia page said. It's since been changed.

Wikipedia page of Paul Dunne, amateur leading the #OpenChampionship pic.twitter.com/OoZTovh0XR

— Eric Lin (@ericlin7799) July 19, 2015




What to Watch For:

The RBC Canadian Open begins Thursday from Glen Abbey GC in Oakville, Ontario.