Was Pebble Beach TOO Difficult?
The 2010 US Open left golfers battered and bruised. Graeme McDowell didn't even break par as he became the first European in 40 years to win a US Open. Ernie Els came in second, two strokes behind, followed by the rivals Mickelson and Woods, who tied for 4th with a 3 over par 287.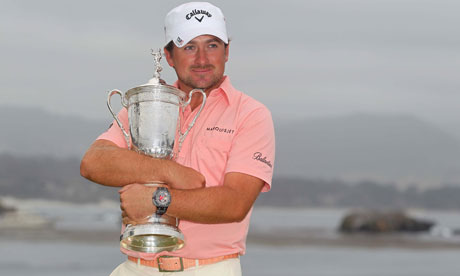 Dustin Johnson lead the pack coming into the 54th hole with a 3 stroke lead over McDowell, and a 6 stroke lead over Tiger. But his ball fell off a cliff near the 8th hole and his game fell with it. His final round score: An 82, adding 16 strokes to his Saturday core. He even beat Gil Morgan's 1992 81 stroke final round after being the 54 hole leader.
Congratulations Graeme McDowell! But was this Open exciting or just horrifying? This caveman didn't scream in triumph as often as he groaned in pain while watching this weekend.
Did the changes at Pebble Beach make the game TOO difficult or was it just a bad weekend for low scores?
~Scratch
Bonus: In contradiction, there were some brilliant shots fired, Check here for the Espn's Video of the top 10!